'Big Game' UK Trailer: A Young Hunter Helps Out The POTUS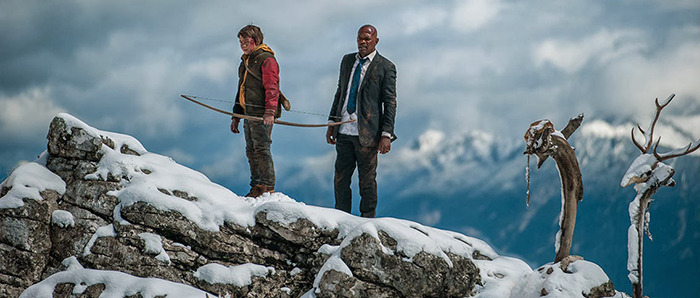 Here's a second trailer, this time out of the UK, for the thriller Big Game, in which Samuel L. Jackson plays the President of the United States, who is lost in the wilderness when Air Force One is attacked. Fortunately, a young hunter is also out in the woods, and the two work together to keep the POTUS alive. The film comes from Jalmari Helander, the director of Rare Exports, and features that film's young star Onni Tommila. Check out the Big Game UK trailer below.
Big Game opens in the UK on May 8. There's still no US date at this point. Trailer via Empire.
Trapped in the wilderness after Air Force One is forced down by a terrorist attack, the President of the United States (Samuel L. Jackson) must rely on the survival skills of a 13-year-old woodsman, in this thriller co-starring Ray Stevenson, Jim Broadbent and Felicity Huffman. In the rugged Finnish countryside, timid thirteen-year-old Oskari (Onni Tommila) embarks on a traditional quest to prove himself by spending twenty-four hours alone in the wild, armed with only a bow and arrow. As Oskari wanders the vast forest, the night is ripped apart by a deafening crash. Following a trail of broken trees and burning debris, Oskari discovers the escape pod from Air Force One, containing the battered and bruised President of the United States (Samuel L. Jackson). With a team of terrorists hot on the president's trail, the life of the most powerful man in the world lies in the hands of a teenage woodsman — and this unlikely duo is soon plunged into a deadly game of cat-and-mouse, with the clock ticking down towards disaster.