'Ash Vs Evil Dead' Supporting Cast Announced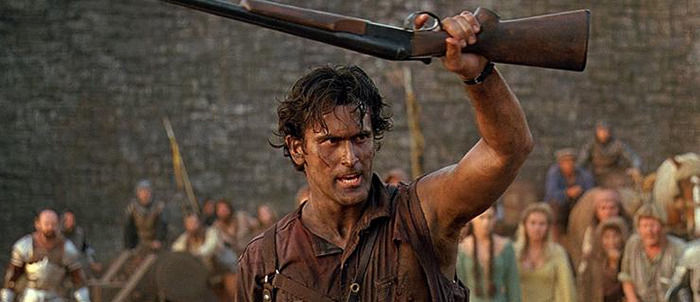 Ash will fight evil once again, and he'll have new friends to help him. The original Evil Dead crew is reuniting to create a ten-episode TV show called Ash vs. Evil Dead, in which the square-jawed, sad-sack hero played by Bruce Campbell will once again square off against the risen dead, and probably his own shortcomings. Sam Raimi is directing the first episode of the show, which he co-wrote with Ivan Raimi, Craig DiGregorio and Tom Spezialy.
So Bruce Campbell is coming back, and now we know who'll be fighting with him. Ray Santiago and Dana DeLorenzo have been cast as supporting players in the Ash vs. Evil Dead cast, and you can read more about who they'll play below.
A press release, via Badass Digest, reveals Santiago's character as Pablo Simon Bolivar, and DeLorenzo as Kelly Maxwell:
Pablo Simon Bolivar is an idealistic immigrant who becomes Ash's loyal sidekick—a Sancho Panza to Ash's Don Quixote. Pablo believes in Ash's heroism even if Ash himself doesn't. Kelly Maxwell is a moody wild child trying to outrun her past. Reluctantly dragged into the fight against evil with Ash and Pablo, Kelly finds a different kind of family with her fellow Deadite slayers.
That Don Quixote comparison for Ash is great. The "moody wild child" description for DeLorenzo's character is less inspiring, but we'll see what they do with it.
Here's the official synopsis:
Campbell will be reprising his role as Ash, the stock boy, aging lothario and chainsaw-handed monster hunter who has spent the last 30 years avoiding responsibility, maturity and the terrors of the Evil Dead. When a Deadite plague threatens to destroy all of mankind, Ash is finally forced to face his demons–personal and literal. Destiny, it turns out, has no plans to release the unlikely hero from its 'Evil' grip.
Ash vs. Evil Dead shoots in New Zealand in the spring of this year, and will air on Starz later in 2015.