Rumor: Dave Bautista Takes Villain Role In 'Highlander' Reboot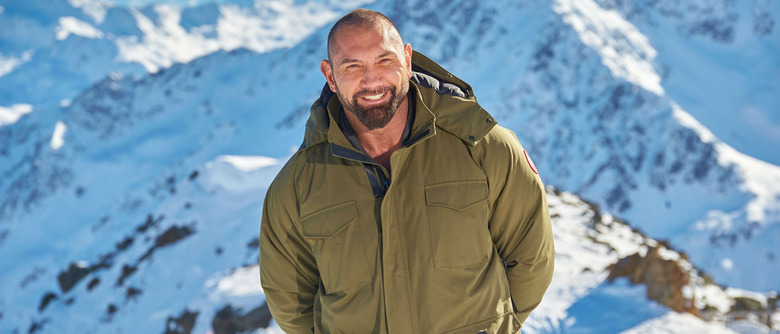 Summit's Highlander reboot still needs a MacLeod, but it may have found its Kurgan. A new report indicates Dave Bautista, of Guardians of the Galaxy and WWE fame, could be stepping up to play the main antagonist. More on the Dave Bautista Highlander casting after the jump. 
Latino Review got the scoop. The original Highlander from 1986 centered around an immortal Scottish warrior (played by Christopher Lambert) locked in an age-old battle for the Prize. The role of brutal, bloodthirsty Immortal Kurgan was played by Clancy Brown.
The new Highlander will be directed by Cedric Nicolas-Troyan, best known for his VFX work on films like Snow White and the Huntsman. He makes his feature directing debut next year on the follow-up, The Huntsman. Highlander will presumably kick off sometime after that.
The project has been bouncing around for a few years already. Before Nicolas-Troyan signed on in 2013, Justin Lin (Fast and Furious 6) and then Juan Carlos Fresnadillo (28 Weeks Later) were attached to direct. Ryan Reynolds was on board at one point to play MacLeod, but dropped out in 2013.
The script, too, has changed hands a few times already. It started with Iron Man writers Art Marcum and Matt Holloway, and has since passed through Melissa Rosenberg (Twilight) and Noah Oppenheim (The Maze Runner).
But Summit isn't going to give up, because the original Highlander was big business. It launched several sequels, the last of which was the 2007 TV movie Highlander: The Source, as well as live-action and animated shows, a comic book, a series of novels, and several video games.
Bautista broke through in a big way last year as the unquestionably strong but hilariously literal warrior Drax in Guardians of the Galaxy. He recently signed on to play villainous henchman Mr. Hinx in the 24th Bond film, titled Spectre. He's also attached to play the villain in the upcoming Kickboxer remake.