'The Man From U.N.C.L.E.' Trailer: Henry Cavill And Armie Hammer Are '60s Spies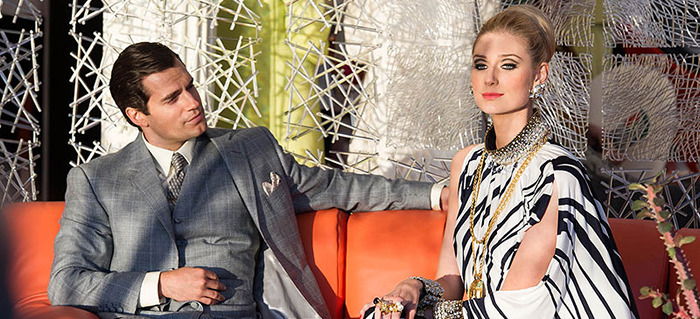 Henry Cavill took a break from being Superman to be The Man From U.N.C.L.E. for Warner Bros. and Guy Ritchie, and now you can see the first footage of him in action. The film features Cavill and Armie Hammer as a pair of unlikely American and Russian spies who work together in the swinging '60s and the Cold War.
Imagine a spy movie with the action sensibility of Ritchie's Sherlock Holmes movies, filtered through the visual sense of the first couple seasons of Mad Men and you'll be in the ballpark. Check out the Man From UNCLE trailer below.
The Man From U.N.C.L.E. opens in the US on August 14. Trailer via Warner Bros.
Henry Cavill ("Man of Steel") stars as Napoleon Solo opposite Armie Hammer ("The Social Network") as Illya Kuryakin in director Guy Ritchie's "The Man from U.N.C.L.E.," a fresh take on the hugely popular 1960s television series.
Set against the backdrop of the early 1960s, at the height of the Cold War, "The Man from U.N.C.L.E." centers on CIA agent Solo and KGB agent Kuryakin. Forced to put aside longstanding hostilities, the two team up on a joint mission to stop a mysterious international criminal organization, which is bent on destabilizing the fragile balance of power through the proliferation of nuclear weapons and technology. The duo's only lead is the daughter of a vanished German scientist, who is the key to infiltrating the criminal organization, and they must race against time to find him and prevent a worldwide catastrophe.