Watch The Making Of Disney's Short Film 'Feast'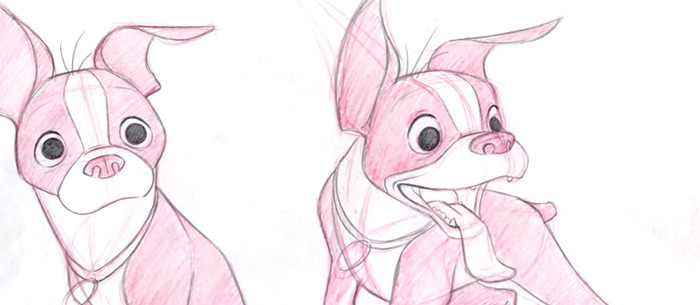 Disney's short film Feast was one of the pleasant surprises of 2014. Originally appearing in theaters before Big Hero 6, the short followed a Boston terrier named Winston through whom we see a couple stages in his owner's life, specifically at meal time. The film's art style is unique, with CD animation given an extra bit of zing through a slightly exaggerated lighting model. The chief achievement in Feast, however, is Winston himself. The dog moves and behaves in a way that is exaggerated just enough beyond reality to be a perfect animated character.
A short Feast making of video shows some of the development of Winston's character, and bits of the creation of the overall animation for the short. We'd like to see even more than this — we'd be happy to go through reams of designs that led to Winston's creation — but this video is a good intro to the process.
That's a fun minute, but there's a lot that isn't in there, such as director Patrick Wilson's history with Disney Animation (he was actually co-head of animation for Big Hero 6) and the origins of this story in the "1secondeveryday" app, with which Osborne documented meals he ate for a year, leading to the idea for Feast.
Variety has the video. Feast will be on DVD and Blu-Ray with Big Hero 6 on February 24.