John Travolta Seeks Vengeance In Thriller 'I Am Wrath'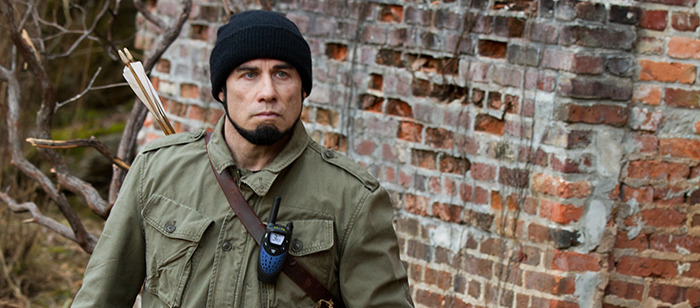 Vengeance never goes out of style. John Travolta has just signed for a film called I Am Wrath, which was once going to be a Nicolas Cage movie. Now it belongs to Travolta, and he'll play a guy who is out for justice when cops fail to corral his wife's killer.
The Wrap reports that Chuck Russell, director of Eraser, The Blob, The Mask, and A Nightmare on Elm Street 3, will direct. The script is by Paul Sloan based on a story by Yvan Gauthier. Seems like it's the same script that was in play when Cage was going to make the movie with William Friedkin directing a few years ago.
The report calls this "Travolta's own Taken," but in fairness that could be more a construction of the trade reporting than anything else. Vengeance films are nothing new, and even though the "getting vengeance for a dead wife" thing is super-tired, there's always an audience ready to see an angry guy righteously dispense violence against bad dudes. And I Am Wrath is a great title.
Here's what we knew about the script a couple years ago:
I Am Wrath centers around a man whose wife has just been murdered. Frustrated with the police's inability to track down the killers, he does a little digging around on his own and soon discovers rampant corruption within his local police force. Sickened by the dishonesty, he decides to take matters into his own hands and become a vigilante to punish compromised cops.
Travolta has had a quiet few years, with his biggest movies since 2010 being From Paris With Love and Savages; the action-thriller Killing Season bypassed most theaters and TIFF 2014 entry The Forger hasn't had any US distribution yet. But he's got a big role in the TV series American Crime Story, and has a few other films in various stages of completion.