Martin Scorsese Lends His Name To Ben Wheatley's 'Free Fire'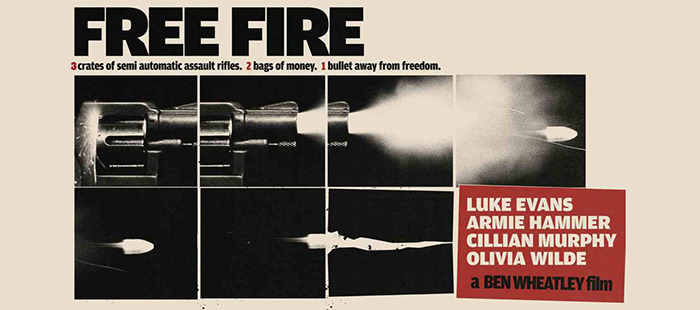 We've just seen the first image from High-Rise, the upcoming film from Kill List, Doctor Who and Sightseers director Ben Wheatley. But his follow-up, Free Fire, already has a great cast. And now Martin Scorsese has lent his name to Ben Wheatley's Free Fire, as executive producer.
The film is set in the US — Wheatley's first to be set in the States — and has Luke Evans, Armie Hammer, Cillian Murphy, Olivia Wilde and Michael Smiley set to star.
The story, as the art above suggests, is about "the aftermath of a gun deal gone horribly wrong." Empire reports more specifically that the movie is "a hard-boiled crime film set in 1970s Boston. A secluded meeting between two gangs in a warehouse suddenly explodes into a shoot-out and a fight for survival."
That sounds like it might be a fairly contained thriller, and with this combination of director and cast, we're excited. Hell, at this point I'll watch anything Wheatley makes without needing to know anything at all beyond his involvement.
Variety reports that Sony Pictures Worldwide Acquisitions has picked up rights in many countries/territories, including Australia and New Zealand, Latin America, Scandinavia,  Spain, and Eastern Europe. US rights aren't sold yet, but with Scorsese's name attached and that cast set, I can't imagine there'll be much delay. And it's great to know that Wheatley is powering forward.Free Fire should shoot this spring. Wheatley is naturally psyched to have Scorsese attached to the movie, saying,
I wouldn't be making films if it wasn't for Martin Scorsese. I think that's the case for a lot of directors. It's an honour and an extreme thrill to have him involved in this project. Wow.
(Sales art above via Laurie Rose, the cinematographer on High-Rise.)