Samuel L. Jackson Joins Tim Burton's 'Miss Peregrine's Home For Peculiar Children'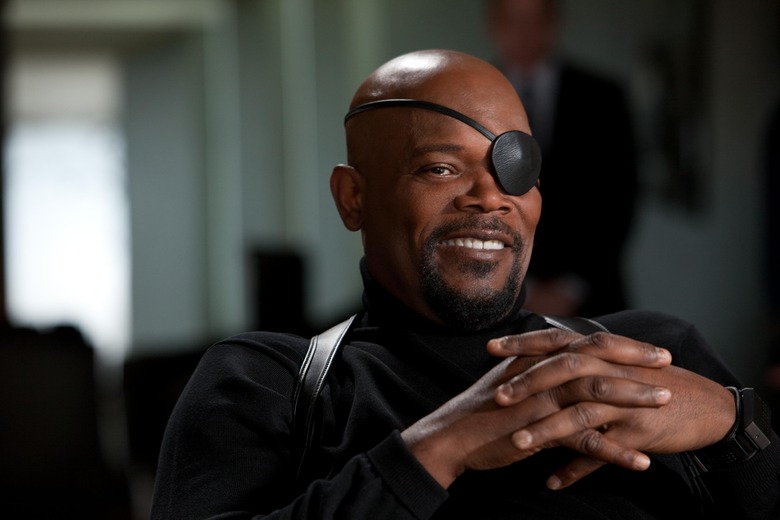 Samuel L. Jackson has worked with some major filmmakers in his day, and Tim Burton's collaborated with some very big stars. Now their professional paths are about to cross for the very first time.
Jackson is reportedly in talks for Burton's Miss Peregrine's Home for Peculiar Children, based on the novel by Ransom Riggs. He joins Eva Green and Asa Butterfield. More on the Miss Peregrine Samuel L Jackson casting after the jump.
Deadline reports Jackson will play Barron, an important new character created just for the film. It's unclear exactly how he'll figure into the story, although TheWrap's Jeff Sneider indicates that Barron is a villain. Curiously, Sneider also says Laurence Fishburne and Amanda Seyfried (?!) were up for the part.
Scripted by Jane Goldman (Kingsman: The Secret Service) follows a teenager who must protect an island of superpowered orphans from the monsters who want to destroy them. Green plays the titular Miss Peregrine, who's in charge of the orphans, and Butterfield is the young hero.
Riggs' novel was a huge hit when it was published in 2011, spending 63 weeks on the New York Times bestseller list. A sequel, Hollow City, came out last year. The author is currently working on the third installment of the series.
Jackson will be seen this weekend in Fox's Kingsman: The Secret Service, and later this year in Avengers: Age of Ultron. He is currently shooting The Hateful Eight, which reteams him with Pulp Fiction and Django Unchained director Quentin Tarantino.
Burton is coming off of the Margaret Keane biopic Big Eyes, which fared worse than expected in the awards race. Still, it didn't star Johnny Depp in white makeup so maybe it was a step in the right direction. Additionally, he's working on Beetlejuice 2, which does not yet have a release date.
Fox has Miss Peregrine's Home for Peculiar Children set to open March 4, 2016.