'Fifty Shades Of Grey' Sequels Are Coming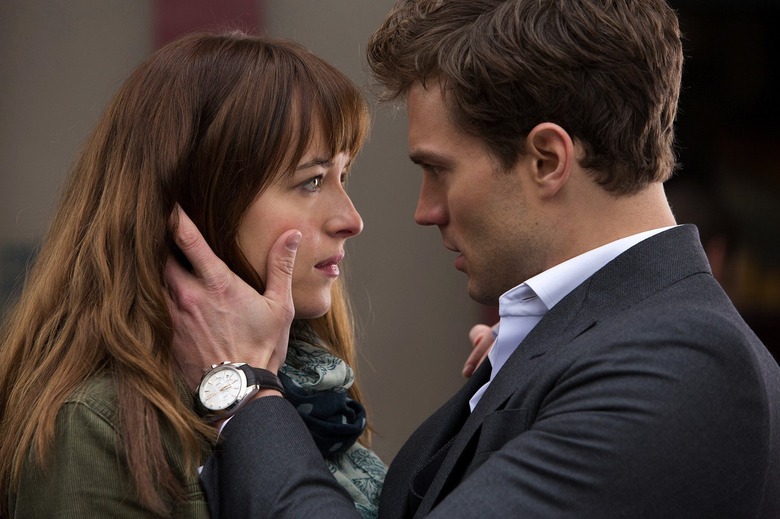 Fifty Shades of Grey soundss like a disaster in some respects, but it's already looking like a success in a commercial sense. It's already one of the fastest-selling R-rated advance tickets in history, and is on track to become one of the biggest Valentine's Day openings in history. It's even helped boost January movie ticket sales by 37% over last year.
And you know what that means: Sequels are coming. They'll be based on the two other books from the Fifty Shades trilogy, Fifty Shades Darker and Fifty Shades Freed. Just be glad we haven't heard of plans to split the finale into two films. More on the Fifty Shades of Grey sequels after the jump. 
MTV reported the news from a fan screening event this past weekend, which had author E.L. James, stars Jamie Dornan and Dakota Johnson, and director Sam Taylor-Johnson all in attendance. The announcement arrives one week before the wide release of Fifty Shades of Grey on February 13.
Focus Features' decision to greenlight the Fifty Shades sequels suggests they're feeling pretty confident about the movie. But it's no guarantee that the film will actually be a hit, or that the studio will still go through with the sequels if the first film craters. Remember how The Mortal Instruments began casting its follow-up before it bombed and blew those plans to bits?
As of now, it's still unclear which of the talents from Fifty Shades of Grey will be back for the sequel. Johnson has said she'd be happy to return, and admitted that she's obligated to do so either way. Dornan likely is too, and has said it is "definitely the idea" to return. Taylor-Johnson also gave a simple "yes" when asked whether she was on board for the next film.
But it's been difficult for the cast and crew to shake the impression that they can't stand each other. Johnson and Dornan don't have much chemistry in any of the clips or trailers we've seen so far — a huge problem when the entire movie is built around their supposedly irresistible sexual connection — and Taylor-Johnson and James have been open about their many arguments behind the scenes.