2015 BAFTA Awards Winners: 'Boyhood' Takes Best Film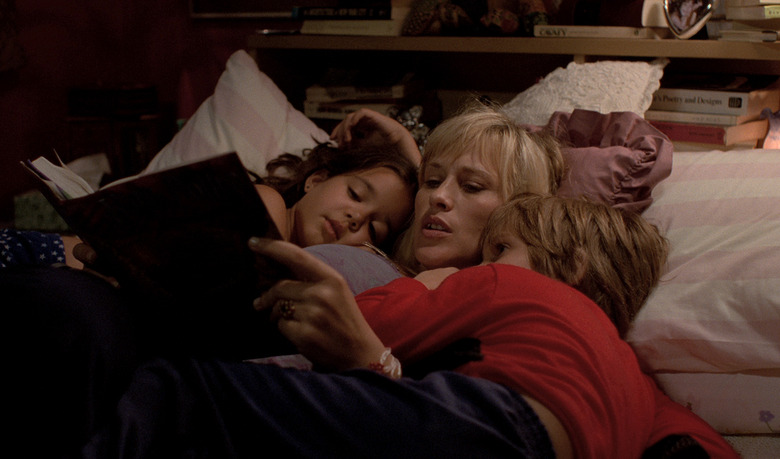 We're in the home stretch now with regards to awards season, as the BAFTA Awards took place this weekend. At this point, it's taken for granted that the Best Picture Oscar race will come down to Boyhood vs. Birdman, and the former got the edge here. Boyhood picked up three prizes including Best Film, while Birdman won only Best Cinematography.
But the other big winner of the night turned out to be The Grand Budapest Hotel, which went in with the greatest number of nominations this year (11) and went home with the greatest number of wins (5).
Elsewhere, Julianne Moore, J.K. Simmons, and Patricia Arquette cemented themselves as Oscar frontrunners for their respective categories, and Eddie Redmayne retained his edge over Michael Keaton. Get the full list of 2015 BAFTA Awards winners after the jump.
BEST FILMBirdman, Alejandro G. Inarritu, John Lesher, James W. Skotchdopole* Boyhood, Richard Linklater, Cathleen SutherlandThe Grand Budapest Hotel, Wes Anderson, Scott Rudin, Steven Rales, Jeremy DawsonThe Imitation Game, Nora Grossman, Ido Ostrowsky, Teddy SchwarzmanThe Theory of Everything, Tim Bevan, Eric Fellner, Lisa Bruce, Anthony McCartenOUTSTANDING BRITISH FILM'71, Yann Demange, Angus Lamont, Robin Gutch, Gregory BurkeThe Imitation Game, Morten Tyldum, Nora Grossman, Ido Ostrowsky, Teddy Schwarzman, Graham MoorePaddington, Paul King, David HeymanPride, Matthew Warchus, David Livingstone, Stephen Beresford* The Theory of Everything, James Marsh, Tim Bevan, Eric Fellner, Lisa Bruce, Anthony McCartenUnder the Skin, Jonathan Glazer, James Wilson, Nick Wechsler, Walter CampbellANIMATED FILMBig Hero 6, Don Hall, Chris WilliamsThe Boxtrolls, Anthony Stacchi, Graham Annable* The Lego Movie, Phil Lord, Christopher MillerDIRECTORBirdman, Alejandro G. Inarritu* Boyhood, Richard LinklaterThe Grand Budapest Hotel, Wes AndersonThe Theory of Everything, James MarshWhiplash, Damien ChazelleORIGINAL SCREENPLAYBirdman, Alejandro G. Inarritu, Nicolas Giacobone, Alexander Dinelaris Jr, Armando BoBoyhood, Richard Linklater* The Grand Budapest Hotel, Wes AndersonNightcrawler, Dan GilroyWhiplash, Damien ChazelleADAPTED SCREENPLAYAmerican Sniper, Jason HallGone Girl, Gillian FlynnThe Imitation Game, Graham MoorePaddington, Paul King* The Theory of Everything, Anthony McCartenLEADING ACTOR
Benedict Cumberbatch, The Imitation Game
* Eddie Redmayne, The Theory of Everything
Jake Gyllenhaal, Nightcrawler
Michael Keaton, Birdman
Ralph Fiennes, The Grand Budapest Hotel
LEADING ACTRESS
Amy Adams, Big Eyes
Felicity Jones, The Theory of Everything
* Julianne Moore, Still Alice
Reese Witherspoon, Wild
Rosamund Pike, Gone Girl
SUPPORTING ACTOR
Edward Norton, Birdman
Ethan Hawke, Boyhood
* J.K. Simmons, Whiplash
Mark Ruffalo, Foxcatcher
Steve Carell, Foxcatcher
SUPPORTING ACTRESS
Emma Stone, Birdman
Imelda Staunton, Pride
Keira Knightley, The Imitation Game
* Patricia Arquette, Boyhood
Rene Russo, Nightcrawler
ORIGINAL MUSICBirdman, Antonio Sanchez* The Grand Budapest Hotel, Alexandre DesplatInterstellar, Hans ZimmerThe Theory of Everything, Johann JohannssonUnder the Skin, Mica LeviCINEMATOGRAPHY* Birdman, Emmanuel LubezkiThe Grand Budapest Hotel, Robert YeomanIda, Lukasz Zal, Ryzsard LenczewskiInterstellar, Hoyte van HoytemaMr. Turner, Dick PopeEDITINGBirdman, Douglas Crise, Stephen MirrioneThe Grand Budapest Hotel, Barney PillingThe Imitation Game, William GoldenbergNightcrawler, John GilroyThe Theory of Everything, Jinx Godfrey* Whiplash, Tom CrossOUTSTANDING DEBUT BY A BRITISH ACTOR, DIRECTOR OR PRODUCER
Elaine Constantine (Writer/Director,) Northern Soul
Gregory Burke (Writer), Yann Demange (Director), '71
Hong Khaou (Writer/Director), Lilting
Paul Katis (Director/Producer), Andrew de Lotbiniere (Producer), Kajaki: The True Story
* Stephen Beresford (Writer), David Livingstone (Producer), PrideFILM NOT IN THE ENGLISH LANGUAGE* Ida, Pawel Pawlikowski, Eric Abraham, Piotr Dzieciol, Ewa PuszczynskaLeviathan, Andrey Zvyagintsev, Alexander Rodnyansky, Sergey MelkumovThe Lunchbox, Ritesh Batra, Arun Rangachari, Anurag Kashyap, Guneet MongaTrash, Stephen Daldry, Tim Bevan, Eric Fellner, Kris ThykierTwo Days, One Night, Jean-Pierre Dardenne, Luc Dardenne, Denis FreydDOCUMENTARY20 Feet From Stardom, Morgan Neville, Caitrin Rogers, Gil Friesen20,000 Days on Earth, Iain Forsyth, Jane Pollard* Citizenfour, Laura PoitrasFinding Vivian Maier, John Maloof, Charlie SiskelVirunga, Orlando von Einsiedel, Joanna NatasegaraPRODUCTION DESIGNBig Eyes, Rick Heinrichs, Shane Vieau* The Grand Budapest Hotel, Adam Stockhausen, Anna PinnockThe Imitation Game, Maria Djurkovic, Tatiana MacDonaldInterstellar, Nathan Crowley, Gary FettisMr. Turner, Suzie Davies, Charlotte WattsCOSTUME DESIGN* The Grand Budapest Hotel, Milena CanoneroThe Imitation Game, Sammy Sheldon DifferInto the Woods, Colleen AtwoodMr. Turner, Jacqueline DurranThe Theory of Everything, Steven NobleMAKE-UP AND HAIR* The Grand Budapest Hotel, Frances HannonGuardians of the Galaxy, Elizabeth Yianni-Georgiou, David WhiteInto the Woods, Peter Swords King, J. Roy HellandMr. Turner, Christine Blundell, Lesa WarrenerThe Theory of Everything, Jan SewellSOUNDAmerican Sniper, Walt Martin, John Reitz, Gregg Rudloff, Alan Robert Murray, Bub AsmanBirdman, Thomas Varga, Martin Hernández, Aaron Glascock, Jon Taylor, Frank A. MontañoThe Grand Budapest Hotel, Wayne Lemmer, Christopher Scarabosio, Pawel WdowczakThe Imitation Game, John Midgley, Lee Walpole, Stuart Hilliker, Martin Jensen* Whiplash, Thomas Curley, Ben Wilkins, Craig MannSPECIAL VISUAL EFFECTSDawn of the Planet of the Apes, Joe Letteri, Dan Lemmon, Erik Winquist, Daniel BarrettGuardians of the Galaxy, Stephane Ceretti, Paul Corbould, Jonathan Fawkner, Nicolas AithadiThe Hobbit: The Battle of the Five Armies, Joe Letteri, Eric Saindon, David Clayton, R. Christopher White* Interstellar, Paul Franklin, Scott Fisher, Andrew LockleyX-Men: Days of Future Past, Richard Stammers, Anders Langlands, Tim Crosbie, Cameron WaldbauerBRITISH SHORT ANIMATION* The Bigger Picture, Chris Hees, Daisy Jacobs, Jennifer MajkaMonkey Love Experiments, Ainslie Henderson, Cam Fraser, Will AndersonMy Dad, Marcus ArmitageBRITISH SHORT FILM* Boogaloo and Graham, Brian J. Falconer, Michael Lennox, Ronan BlaneyEmotional Fusebox, Michael Berliner, Rachel TunnardThe Kármán Line, Campbell Beaton, Dawn King, Tiernan Hanby, Oscar SharpSlap, Islay Bell-Webb, Michelangelo Fano, Nick RowlandThree Brothers, Aleem Khan, Matthieu de Braconier, Stephanie PaeplowEE RISING STAR AWARD (voted for by the public)
Gugu Mbatha-Raw
* Jack O'Connell
Margot Robbie
Miles Teller
Shailene Woodley