'Straight Outta Compton' Red-Band Trailer: "It's Non-Violent Protest"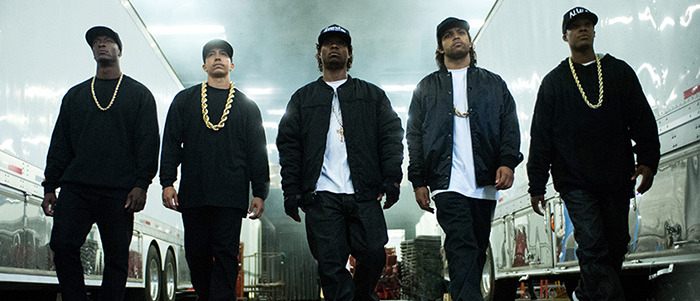 This first Straight Outta Compton trailer, which dramatizes the rise of the rap group N.W.A, comes complete with a long intro featuring founding members Ice Cube and Dr. Dre.
In the film, Cube's son O'Shea Jackson Jr. plays his father, while Corey Hawkins and Jason Mitchell are Dr. Dre, and Eazy-E respectively. The film follows the late-'80s rise of the group, set against the conservative climate that was freaked out by the vivid portrayal of urban life, and goes at least up to the 1992 riots that were sparked by the beating of Rodney King. This Straight Outta Compton trailer is a full-on red-band edit, with some nudity and the hint of violence, but all the language necessary to represent N.W.A in their prime. It's a great trailer, watch below. 
F. Gary Gray directs, and Paul Giamatti plays manager Jerry Heller, who helped bring N.W.A to the masses before the heavy attention he gave to Eazy-E soured his relationship with the group.
(It's my understanding that the intro to this trailer is what was being filmed when Suge Knight got into an argument with a couple guys, leading to the hit and run incident that killed one man and injured another, and for which he's now facing life in prison. )
Straight Outta Compton opens on August 14, 2015. Trailer via Universal.
In the mid-1980s, the streets of Compton, California, were some of the most dangerous in the country. When five young men translated their experiences growing up into brutally honest music that rebelled against abusive authority, they gave an explosive voice to a silenced generation. Following the meteoric rise and fall of N.W.A., Straight Outta Compton tells the astonishing story of how these youngsters revolutionized music and pop culture forever the moment they told the world the truth about life in the hood and ignited a cultural war.
Starring O'Shea Jackson Jr., Corey Hawkins and Jason Mitchell as Ice Cube, Dr. Dre and Eazy-E, Straight Outta Compton is directed by F. Gary Gray (Friday, Set It Off, The Italian Job). The drama is produced by original N.W.A. members Ice Cube and Dr. Dre, who are joined by fellow producers Matt Alvarez and Tomica Woods-Wright. Will Packer serves as executive producer of the film alongside Gray.