Baz Luhrmann's Music-Driven TV Show 'The Get Down' Coming To Netflix; Watch A Teaser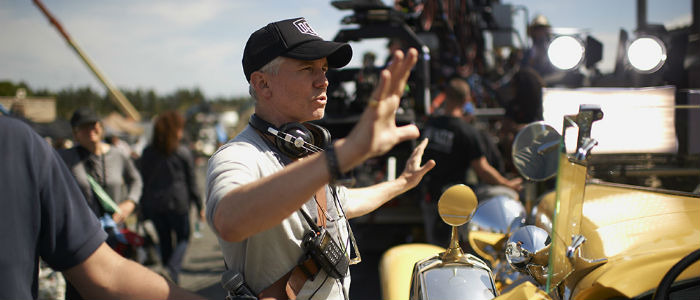 The latest big name director to make the move to TV is Baz Luhrmann, and he's following David Fincher to Netflix. The streaming service has just signed on to make 13 one-hour episodes of Luhrmann's The Get Down, a music-driven show set in 1970s New York City. Luhrmann will serve as executive producer, and direct the first two episodes of the show as well as the season finale. It'll hit Netflix worldwide in 2016. Read the full press release about the Baz Luhrmann TV show below.
UPDATE: A short trailer has been released. Watch it below.
Here's the full press release on The Get Down. It sounds like it could be amazing:
The Get Down, a new Netflix Original Series, from visionary director Baz Luhrmann, will premiere exclusively on Netflix in all territories in 2016. The series marks Luhrmann's first music-driven drama since the global hit Moulin Rouge!The one-hour, 13-episode drama from Sony Pictures Television will focus on 1970s New York City – broken down and beaten up, violent, cash strapped — dying. Consigned to rubble, a rag-tag crew of South Bronx teenagers are nothings and nobodies with no one to shelter them – except each other, armed only with verbal games, improvised dance steps, some magic markers and spray cans. From Bronx tenements, to the SoHo art scene; from CBGBs to Studio 54 and even the glass towers of the just-built World Trade Center, The Get Down is a mythic saga of how New York at the brink of bankruptcy gave birth to hip-hop, punk and disco — told through the lives and music of the South Bronx kids who changed the city, and the world...forever.Luhrmann, director of Moulin Rouge!, Romeo + Juliet, and The Great Gatsby, will direct the first two episodes and the season finale and serve as executive producer. Academy-Award winner Catherine Martin (The Great Gatsby, Moulin Rouge!), will serve as Costume and Production Designer and executive producer. Paul Watters (Australia); Thomas Kelly (Copper); Stephen Adley Guirgis (Motherf***er With The Hat); Shawn Ryan (The Shield, Terriers); and Marney Hochman (Terriers), will also serve as executive producers."From his very first and magnificently original steps on the world stage with Strictly Ballroom to his most recent with The Great Gatsby, Baz conjures worlds we may not recognize initially, but once there, realize they are infused with the same dreams of every person – to belong, to matter, to live life to its fullest. We are thrilled to support Baz, Catherine and Paul and their team in their quest to illuminate those same dreams through the artists who came of age in the cauldron of the Bronx in the late 1970s," said Cindy Holland, vice president of original content for Netflix."In this golden era of TV, the Netflix culture puts no constraint on creative possibilities. So it is a natural home for The Get Down, a project I have been contemplating and working on now for over 10 years. Throughout, I've been obsessed with the idea of how a city in its lowest moment, forgotten and half destroyed could give birth to such creativity and originality in music, art and culture. I'm thrilled to be working with my partners at Sony and collaborating with a team of extraordinary writers and musicians, many of whom grew up with and lived the story we've set out to tell," said Baz Luhrmann."Baz is an artist in the truest sense, whose talent and vision resonate across mediums. There is no better filmmaker and storyteller to draw us into this world of the forgotten and oppressed residents of the Bronx who rose up and fought back to create and define culture and music for decades to come," said Zack Van Amburg and Jamie Erlicht, presidents of programming and production for Sony Pictures Television.
What do you think about the Baz Luhrmann TV show?
UPDATE: Netflix has posted a brief teaser for the show.