'Kumiko The Treasure Hunter' Trailer: Blurring Fact, Fiction And Fantasy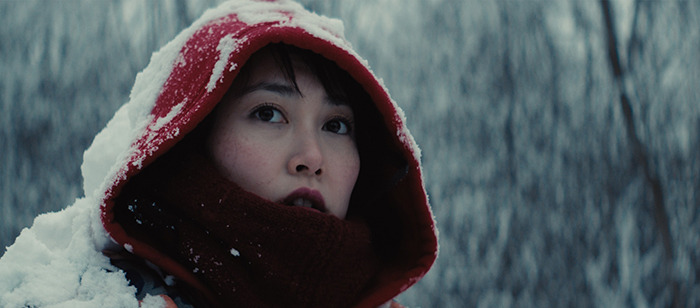 The line between fact and fiction is blurred in Kumiko the Treasure Hunter, which is based on the story of a young Japanese woman found dead in the US in 2001. Supposedly she had traveled to the States in search of treasure, using the film Fargo as a map. The film dives into the dreams of a character inspired by that story, following her surprising trip to the US. Guided by Fargo and a homemade map, Kumiko struggles to find the pot of gold at the end of her own personal rainbow. Her journey is coldly beautiful, comic, and surprising. See the new Kumiko trailer below.
Kumiko the Treasure Hunter opens March 18 in NY, then hits LA on March 20. Trailer via IMDB. Other theatrical runs and VOD will follow.
In this darkly comedic odyssey, Academy Award nominee Rinko Kikuchi (Babel, Pacific Rim) stars as Kumiko, a frustrated Office Lady whose imagination transcends the confines of her mundane life. Kumiko becomes obsessed with a mysterious, battered VHS tape of a popular film she's mistaken for a documentary, fixating on a scene where a suitcase of stolen cash is buried in the desolate, frozen landscape of North Dakota. Believing this treasure to be real, she leaves behind Tokyo and her beloved rabbit Bunzo to recover it – and finds herself on a dangerous adventure unlike anything she's seen in the movies.