Nicolas Winding Refn's 'Neon Demon' Picks Up Keanu Reeves And Christina Hendricks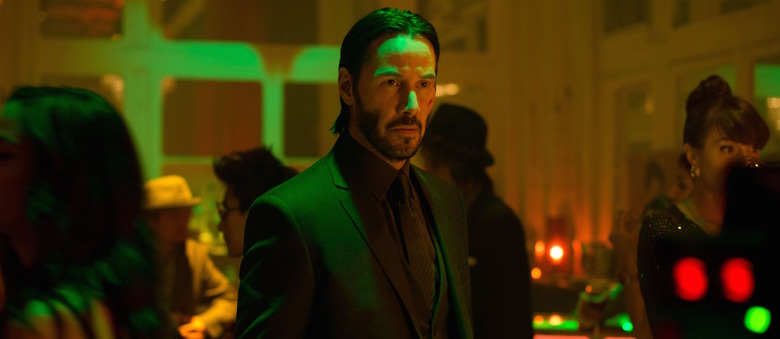 Nicolas Winding Refn has found some more beautiful people for his horror film about beautiful people. Keanu Reeves has boarded The Neon Demon, along with Christina Hendricks, Jena Malone, and Bella Heathcote.
As previously reported, Elle Fanning leads the cast as "an aspiring model who is caught in a world of beauty and demise," while Abbey Lee plays a dangerously unstable popular girl. More on the Neon Demon Keanu Reeves casting after the jump. 
The Neon Demon casting updates come from Variety. The trade doesn't say which characters the new stars will be playing, and plot details are still scarce. Here's Refn's description of the movie, which tells you more about the general vibe and themes than the specific narrative:
One morning I woke and realized I was both surrounded and dominated by women. Strangely, a sudden urge was planted in me to make a horror film about vicious beauty. After making Drive and falling madly in love with the electricity of Los Angeles, I knew I had to return to tell the story of The Neon Demon. This movie is a manifestation of the strong ties between us and will lead to many more adventures.
The film reunites Refn with Hendricks, who had a supporting role in Drive. Hendricks also previously starred with Fanning in Ginger & Rosa, where she played her mother. She'll next be seen in Lost River, helmed by her Drive co-star Ryan Gosling, and the final season of AMC's Mad Men.
Reeves seems poised for a comeback after his well-received John Wick, and a project with Refn should be another step in the right direction. He'll reteam with the John Wick directors for the new TV series Rain. Malone is coming off of Inherent Vice and the Hunger Games series, and Heathcote has a major role in the upcoming Pride and Prejudice and Zombies.
Other regular Refn collaborators set to return include editor Matthew Newman (Bronson, Drive, Only God Forgives), composer Cliff Martinez (Drive, Only God Forgives), and producer Lene Borglum (Valhalla Rising, Only God Forgives). Joining that team will be DP Philippe Le Sourd (The Grand Master). The Neon Demon shoots in Los Angeles this spring.