'Mr. Holmes' Clip Introduces Ian McKellen As Aged Sherlock Holmes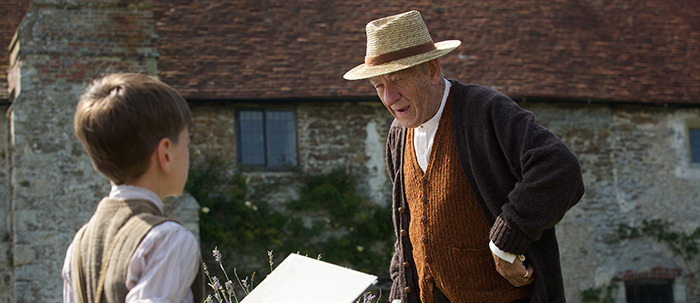 There have been more screen incarnations of Sherlock Holmes than we can easily count, with two active on television right now. And still the idea of Ian McKellen as Sherlock Holmes is something we're still eager to see. Now we can — and as one might expect, Sir Ian's Holmes is somewhat unique.
Based upon the novel A Slight Trick of the Mind by Mitch Cullin, the film Mr. Holmes catches up with Sherlock very late in life, when he has retired to a country home. Holmes is beumsed, and to some extent irritated by the inflated tales of his exploits. The story finds him returning — mentally, at least — to old stories and memories. Bill Condon directs the film which "reflects upon the interplay between truth and legend, age and memory, unresolved guilt and the chance to finally make peace with oneself." There's no trailer for the film just yet, but you can see McKellan's Sherlock now in a Mr. Holmes clip.
Mr. Holmes will be released in the US later in 2015 by Roadside Attractions. Clip courtesy of Sir McKellen himself.
England in 1947. The famous detective Sherlock Holmes, now 93 years old, lives in his Sussex country house. When he goes to the cinema and sees a film about himself, he mostly shakes his head. For much of what he is purported to have done in the heroic stories has simply been made up. He never wore the legendary hat and, rather than the pipe, he always preferred a cigarette. Long since retired, he steers clear of people and dedicates himself chiefly to bee-keeping. The only people he suffers to be around him are housekeeper Mrs Munro and her small son Roger, whom Holmes is initiating into the secrets of apiculture. But sometimes his thoughts are beset by old cases. What really went on with the mysterious Ann Kelmot, whom he shadowed at her husband's behest? And what connects him to the Umezaki family, who have invited him to Japan? Holmes undertakes one final big journey, experiences a botanical miracle and resolves to tell a compassionate lie ...