'Astro Boy' Movie Coming From 'Lego Movie' Animation Studio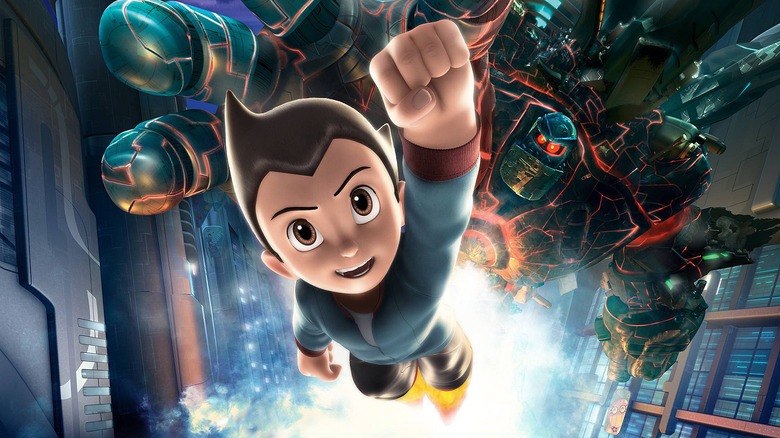 Astro Boy is flying back to the big screen, this time in live action. Animal Logic, the animation and effects studio behind Avengers: Age of Ultron and The Lego Movie, is developing a new film based on the iconic Japanese character.
Perhaps not surprisingly, given Hollywood's current obsession with superheroes, the new version of Astro Boy is described as being "in the same league as an Iron Man." More on the Astro Boy movie after the jump. 
THR reports Animal Logic is currently seeking screenwriters for its Astro Boy movie. No director or stars are attached at this time. Australia's Animal Logic Entertainment and Japan's Tezuka Productions are teaming on the project.
First created by Osamu Tezuka in 1951, Astro Boy is a robot invented by a scientist as a replacement for his dead son. However, he can't grow up like a normal human child, so the scientist abandons him to a cruel circus owner. Astro Boy eventually becomes a hero, using his special robot powers for good.
Tezuka's original Astro Boy manga has been adapted into multiple anime series. The character was also brought to life in 2009 CG-animated 3D movie featuring Freddie Highmore as the voice of Astro Boy. The film was an indifferently reviewed flop.
Animal Logic, naturally, has higher hopes for their new Astro Boy. Unlike the cartoons, which were targeted at kids, the live-action Astro Boy movie is envisioned as a comic book adventure with four-quadrant appeal.
"We've seen his as a manga, an anime and an animated movie but we've never seen him as a live action movie or him as a superhero," said producer Zareh Nalbandian. "We actually see him in the same league as an Iron Man."
Animal Logic is known for animation work on films such as The Lego Movie and Happy Feet, and its VFX work on the likes of Avengers: Age of Ultron, The Great Gatsby, and The Matrix. However, they've recently begun developing their own pictures, including the upcoming Betty Boop feature.