Terrence Malick Documentary 'Voyage Of Time' Formally Announced, Will Be Released In Two Cuts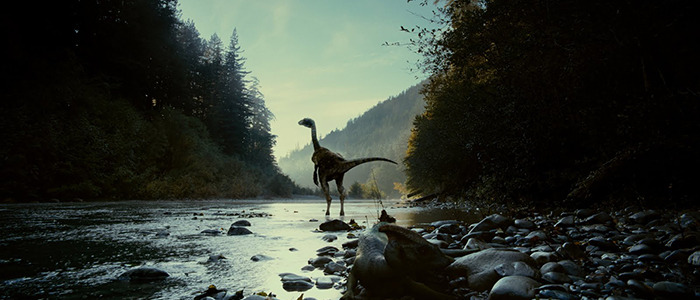 For years — since before the release of The Tree of Life — we've heard about Terrence Malick's planned documentary film Voyage of Time, to be released in full IMAX format. But most of what we've heard about the film is that it is coming eventually, with little in the way of actual specifics. We know Brad Pitt narrates the film, and that it will explore the full span of time, and that's about it. Now the Malick IMAX documentary Voyage of Time has been formally announced, and in fact there are two official versions, one for IMAX distribution, and one for regular theaters. More details are below. 
Broad Green Pictures and IMAX are working with Sophisticated Films and Wild Bunch to provide final financing for Voyage of Time, with Broad Green set to distribute the film in North America after its initial IMAX run.
A press release announces that there will be two versions of the film: one IMAX version narrated by Pitt, and another, possibly longer cut, narrated by Cate Blanchett.
 VOYAGE OF TIME is a celebration of the universe, displaying the whole of time, from its start to its final collapse. This film examines all that occurred to prepare the world that stands before us now: science and spirit, birth and death, the grand cosmos and the minute life systems of our planet. Malick is working first in the IMAX format for a 40-minute version with scientific narration by Brad Pitt, followed by a 35mm feature-length version with narration by Cate Blanchett.
Here's the rest of the press release info:
Gabriel and Daniel Hammond of Broad Green Pictures are executive-producing the film along with Tanner Beard, Mary Bing, Yves Chevalier, Christos V. Konstantakopoulos, Jacques Perrin, Ryan Rettig, and Donald Rosenfeld. Dede Gardner, Nicolas Gonda, Sarah Green, Grant Hill, Brad Pitt, Bill Pohlad and Sophokles Tasioulis are producing.VOYAGE commenced international sales at the 2014 Cannes Film Festival, with GAGA (JPN), MARS (FR), Lumière (BENELUX) and EDKO (HK) among the first to secure distribution rights.VOYAGE OF TIME is the first recipient of financing from IMAX's Original Film Fund, announced in May. The Fund, capitalized at $50-plus million, will co-finance a portfolio of 10 original IMAX films that will enable IMAX's worldwide network to provide new digital content to its institutional partners in the form of documentaries that employ cutting-edge techniques, innovative filmmakers such as Malick, and embrace fresh new perspectives in documentary storytelling."Terrence Malick is one of the most innovative filmmakers in the world, and has literally been designing and making this movie with large-format cameras for over 30 years," said Greg Foster, Senior Executive Vice President, IMAX Corp. and CEO of IMAX Entertainment. "To be able to launch our Film Fund portfolio with Malick and his imaginative style of filmmaking is capturing lightning in a bottle. We look forward to working with Terry and his producing partners on this groundbreaking film.""Terrence Malick is an innovator of epic scope," said Gabriel and Daniel Hammond of Broad Green Pictures. "We have long admired his work and could not be more excited to partner with him on this project.""We are thrilled to partner with IMAX and Broad Green, who, along with our partners at Sophisticated Films and Wild Bunch, provide a combined expertise to ensure Terry's vision is carried out at the highest level," said Nicolas Gonda and Sarah Green.Said Sophisticated's Sophokles Tasioulis: "I am extremely pleased to welcome IMAX and Broad Green to VOYAGE OF TIME. In the past 12 months we have been working hard to secure the best imaginable set-up for Terry. With IMAX we give VOYAGE the perfect stage for the epic scale and ambition of the project and with Broad Green we bring on one of the most dynamic new powerhouses of the film industry."The deal was negotiated with the legal support of Stefan Luetje of Olswang Germany LLP, Alan Sacks at Frankfurt Kurnit and Christopher Tricarico, EVP of Business Affairs at Broad Green.