'Lost River' Trailer: Ryan Gosling Makes His Directorial Debut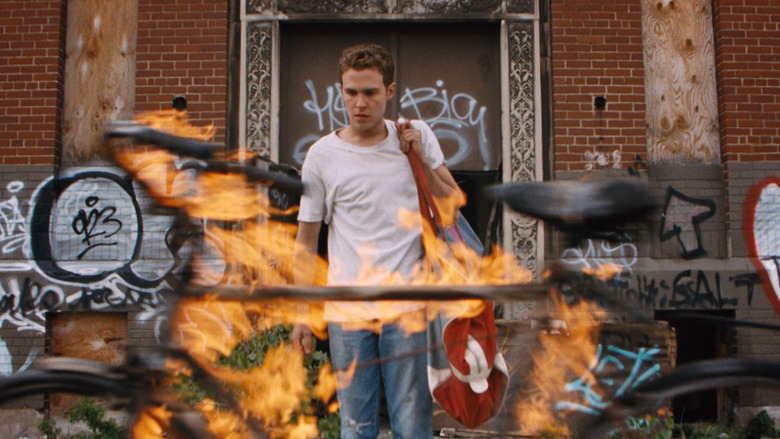 Ryan Gosling is an extremely successful movie star, or at least he was as of 2013. He hasn't been seen onscreen in the past year because in addition to being a movie star, he also wants to be a director. He makes his feature filmmaking debut with Lost River, a dreamy fantasy-thriller about a teenage boy (Iain De Casestecker) in an abandoned city.Christina Hendricks plays the kid's beleaguered mother and Saoirse Ronan his oddball love interest. Matt Smith, Eva Mendes, and Ben Mendelsohn also star. Watch the Lost River trailer after the jump. 
Based on the trailer, Lost River would probably make for a really good music video. It all looks a bit familiar, probably because it looks like what would happen if you put David Lynch, Terrence Malick, and Gosling's buddy Nicolas Winding Refn in a blender. Still, there are worse people to steal from. The resulting imagery is striking, surreal, and above all, cool. Particularly when it's set to a pulsing soundtrack.
Whether it also makes for a good full-length feature film is a different question. Critics were not kind to Lost River when it hit the festival circuit last year. Time reported that it was perhaps "the most enthusiastically derided entry" at last year's Cannes, then piled on by describing the film as "waver[ing] between the stupefying and the obscure, between LOL and WTF."
But hey, everyone's got to start somewhere. Mixed in with those criticisms were a few indications that Gosling might still have potential. "[I]t is frustrating precisely because it sometimes isn't so bad," wrote The Guardian. "There is something in there somewhere – striking images and moments, and the crazy energy of a folie de grandeur." This after they called Lost River "colossally indulgent, shapeless, often fantastically and unthinkingly offensive and at all times insufferably conceited."
Lost River lands in theaters and on VOD April 10.
"Lost River" is a dark fairy tale about love, family and the fight for survival in the face of danger. In the virtually abandoned city of Lost River, Billy (Christina Hendricks), a single mother of two, is led into a macabre underworld in her quest to save her childhood home and hold her family together. Her teenage son Bones (Iain De Casestecker) discovers a mystery about the origins of Lost River that triggers his curiosity and sets into motion an unexpected journey that will test his limits and the limits of those he loves.