'Tomorrowland' Concept Art Looks Like Xandar In 'Guardians Of The Galaxy'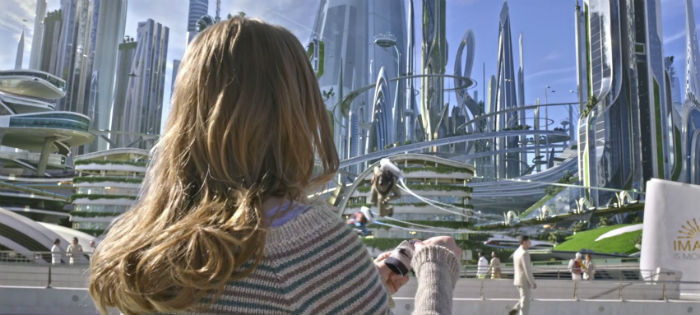 This past weekend's Super Bowl spot was the beginning of the marketing lead up to the release of Brad Bird's Tomorrowland. The Disney flick, which stars George Clooney and Britt Robertson, opens May 22. It centers on a girl (Robertson) who discovers an alternate universe where anything is possible. It's a world well-known by an older scientist (Clooney) who helps her discover its secrets.
The Super Bowl spot began to pull the curtain back more on the look of Tomorrowland itself and, on a newly launched viral site, a few more images have been revealed. If they feel a bit familiar, it's because it looks a little bit like the city of Xandar in last year's hit film, Guardians of the Galaxy. Check out some new Tomorrowland concept art below.
The Tomorrowland concept art comes from the newly launched website, TakeMeToTomorrowland.com. Here it is.
More on these designs in a bit. But compare them to these, which depict Xandar in Guardians of the Galaxy:
Obviously, it's not an exact comparison. The Guardians art from Xandar has a different color palate, is a bit more busy, and has more people. But, seeing the new Tomorrowland concept art just made me think of Xandar and a similar artistic view of a futuristic city, from the same company, is just food for thought.
As for the Tomorrowland concept art itself, it's very whimsical. Very flowing. There are curves, muted colors. Compare it to the few images we've seen from the film itself:
Those look even busier and better than the concept art. More like a theme park ride in a way, which feels like a possible mandate given to the designers.
Anyway, lots of pretty locales to look at here. And we're sure to only see more in the coming months with Tomorrowland coming out soon. Once again, here's the Super bowl spot:
From Disney comes two-time Oscar winner Brad Bird's "Tomorrowland," a riveting mystery adventure starring Academy Award winner George Clooney. Bound by a shared destiny, former boy-genius Frank (Clooney), jaded by disillusionment, and Casey (Britt Robertson), a bright, optimistic teen bursting with scientific curiosity, embark on a danger-filled mission to unearth the secrets of an enigmatic place somewhere in time and space known only as "Tomorrowland." What they must do there changes the world—and them—forever.
Featuring a screenplay by "Lost" writer and co-creator Damon Lindelof and Brad Bird, from a story by Lindelof & Bird & Jeff Jensen, "Tomorrowland" promises to take audiences on a thrill ride of nonstop adventures through new dimensions that have only been dreamed of.
The film also stars Hugh Laurie as brilliant scientist David Nix, Raffey Cassidy, Tim McGraw, Judy Greer, Kathryn Hahn, Keegan-Michael Key and Thomas Robinson.
"Tomorrowland" is produced by Damon Lindelof, Brad Bird and Jeffrey Chernov and directed by Brad Bird, with John Walker, Brigham Taylor, Jeff Jensen and Bernard Bellew serving as executive producers. "Tomorrowland" opens in U.S. theaters on May 22, 2015.