'Avengers: Age Of Ultron' Fathead Posters Feature Vision And Hulkbuster; Plus New Official Stills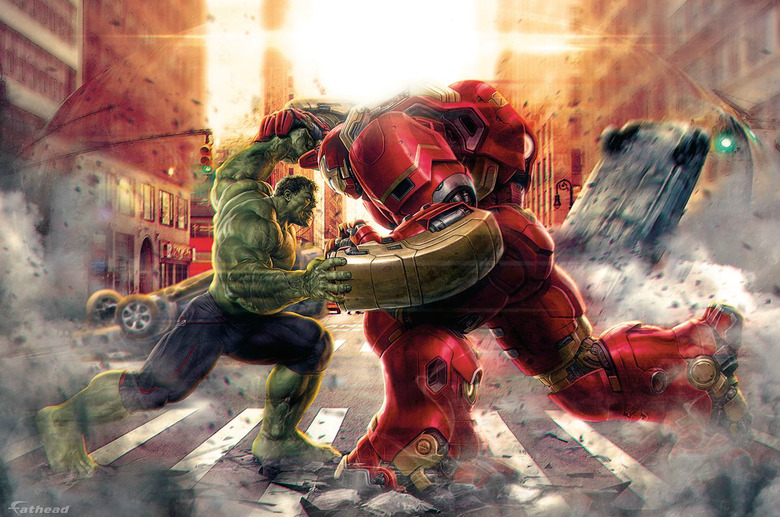 Three months from now, Avengers: Age of Ultron will be in our rear view window. It comes out May 1 in the United States, and as is the case with any big film, a few days later we'll all have overanalyzed the crap out of it.
At the moment, many questions remain about the film. Some of those are about to be answered as another batch of marketing is hitting. The first TV spot was just released and now Marvel has released sixteen new photos from the film. Some were in Empire last week, and some showed up in the trailers, but there are some great new looks at the Hulk, Scarlet Witch, Quicksilver and more here.
Check out the new Avengers: Age of Ultron pictures here, as well as the Hulkbuster and Vision and some cool posters courtesy of Fathead.
Thanks to Marvel.com for the images. Click on anything to see it bigger, or to scroll through the rest.
New Avengers Age of Ultron Pictures
Pretty cool stuff, right? Well, here's more. Comic Book Movie found these images of Avengers: Age of Ultron characters and posters via Fathead.
Marvel's "Avengers: Age of Ultron" promises to be the biggest event in the Marvel Cinematic Universe yet! Catch a glimpse of things to come and new behind-the-scenes pictures above, and see "Avengers: Age of Ultron" when it lands in theaters May 1.
Tony Stark (Robert Downey, Jr.) takes drastic measures to create Hulkbuster armor to take down Hulk (Mark Ruffalo)! Black Widow (Scarlett Johansson), on the other hand, hopes she can see the humanity in Hulk to calm down the monster. Check out the images above for even more action from the super hero epic and see Joss Whedon orchestrating it all!
Catch "Avengers: Age of Ultron" when it hits theaters May 1 for all the action unleashed on the big screen! Make sure to follow @Avengers on Twitter and like "Avengers: Age of Ultron" on Facebook for all the latest on Earth's Mightiest Heroes.
Marvel Studios presents "Avengers: Age of Ultron," the epic follow-up to the biggest Super Hero movie of all time. When Tony Stark tries to jumpstart a dormant peacekeeping program, things go awry and Earth's Mightiest Heroes, including Iron Man, Captain America, Thor, The Incredible Hulk, Black Widow and Hawkeye, are put to the ultimate test as the fate of the planet hangs in the balance. As the villainous Ultron emerges, it is up to The Avengers to stop him from enacting his terrible plans, and soon uneasy alliances and unexpected action pave the way for an epic and unique global adventure.
Marvel's "Avengers: Age of Ultron" stars Robert Downey Jr., who returns as Iron Man, along with Chris Hemsworth as Thor, Mark Ruffalo as Hulk and Chris Evans as Captain America. Together with Scarlett Johansson as Black Widow and Jeremy Renner as Hawkeye, and with the additional support of Don Cheadle as James Rhodes/War Machine, Cobie Smulders as Agent Maria Hill, Stellan Skarsgård as Erik Selvig and Samuel L. Jackson as Nick Fury, the team must reassemble to defeat James Spader as Ultron, a terrifying technological villain hell-bent on human extinction. Along the way, they confront two mysterious and powerful newcomers, Pietro Maximoff, played by Aaron Taylor-Johnson, and Wanda Maximoff, played by Elizabeth Olsen and meet an old friend in a new form when Paul Bettany becomes Vision.
Written and directed by Joss Whedon and produced by Kevin Feige, Marvel's "Avengers: Age of Ultron" is based on the ever-popular Marvel comic book series "The Avengers," first published in 1963. Louis D'Esposito, Alan Fine, Victoria Alonso, Jeremy Latcham, Patricia Whitcher, Stan Lee and Jon Favreau serve as executive producers. Get set for an action-packed thrill ride when The Avengers return in Marvel's "Avengers: Age of Ultron" on May 1, 2015.