Rumor: 'GI Joe 3' Could Involve A 'M.A.S.K.' Movie Crossover?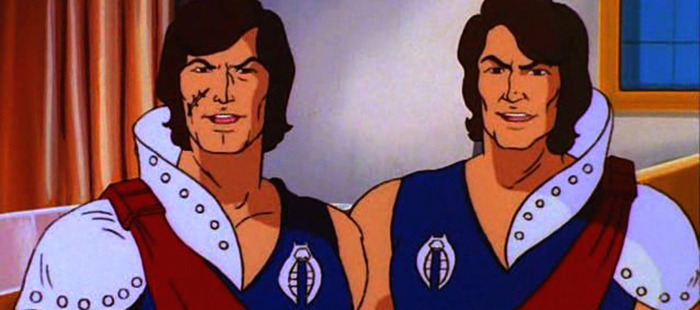 Hasbro and Marvel Comics jointly stumbled into a gold mine in the early '80s when they collaborated on a revival of the old G.I. Joe toy line. We're at the point now where a third live-action movie is in development based on those toys, comics and cartoons from the '80s. DJ Caruso has been in talks to direct GI Joe 3, and now a set of rumors claims to ID some of the new characters that will show up. Two are old Joe villains, the twins Tomax and Xamot. Then there's the claim that M.A.S.K., one of G.I. Joe's would-be rivals on the toy and cartoon front, will be part of the third film.
We've got the twins report, and the M.A.S.K. movie rumor, such as it is, below.
Film Divider has both pieces of info. M.A.S.K. stood for Mobile Armored Strike Kommand, and was a toy line and cartoon that began in 1985, created by Hasbro rival Kenner. Not long after, Kenner even had a comic book line produced by DC, to complete the G.I. Joe template. (Kenner was also licensing DC characters for another toy line at the time.) When Hasbro acquired Kenner, the rival character sets were united.
The report is that M.A.S.K. lead character Matt Trakker will show up in G.I. Joe 3. Whether he'll be an important part of the story or merely a supporting player is not part of the rumor story, so speculate away.
(M.A.S.K. also featured transforming vehicles, which could seem like a gateway to a G.I. Joe / Transformers crossover. Producer Lorenzo di Bonaventura, who is behind the scenes on both film series, says that isn't in the works.)
Beyond that, there's the additional, and more credible rumor about the twins Tomax and Xamot being the bad guys in the third movie. Those characters were the leaders of elite an Cobra force called the Crimson Guard. Hailing from Corsica, the twins were military vets turned financiers turned terrorists. (So they could effectively be the most realistic characters in the new movie!) The twins ran Cobra's legit fronts, so they got to go from boardroom to battlefield, which could make for a fun gig for whatever actor wants to take that on.
There's little official word on G.I. Joe 3, however. We'll pass on word as casting starts to take place.