Star Wars Bits: 'Force Awakens' Lawsuit, George Lucas, Rebels Season 2, Lando And Plot Spoilers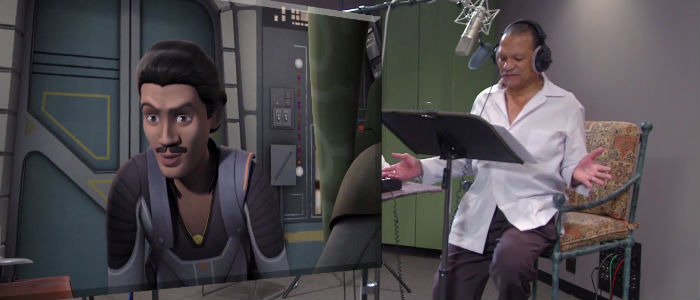 Lucasfilm is finally cracking down on Force Awakens leaks. That's just one of the news bits in this edition of Star Wars Bits. Below, read about the following.
Lucasfilm has filed a lawsuit against an Internet user who posted images from Star Wars: The Force Awakens.
British actor Aidan Cook may be in The Force Awakens as a creature actor.
George Lucas appeared at the Sundance Film Festival and didn't have nice things to say about Hollywood.
Freddie Prinze Jr. Talks Star Wars Rebels Season One and Two, which will be nearly double the length.
Billy Dee Williams will return as Lando in Star Wars Rebels.
See a preview of Marvel's Star Wars #2.
Oscar Isaac has some strong words about fan reaction to Star Wars: The Force Awakens.
How did Star Wars: The Force Awakens take over Toy Fair in Germany?
A huge batch of potential plot spoilers for The Force Awakens have made it online.
There are also some possible descriptions of Han, Leia and Chewbacca's costumes in the film.
If you're like me, you've wondered why Lucasfilm has allowed so much possible concept art from Star Wars: The Force Awakens to leak online. Well, that's over. Courtroom News reports that the company has begun to crack down, seeking legal action against a user who posted some images back in late October. Read more at that link.
Star Wars 7 News saw that British actor Aidan Cook has updated his website with Star Wars: The Force Awakens on his resume. It also says he spent lots of last year as "one of the principal creature performers on a yet to be released film."
George Lucas is pretty bitter since leaving Hollywood behind him with the sale of Lucasfilm. At the Sundance Film Festival over the weekend, he appeared on a panel with Robert Redford to discuss the industry and didn't have many nice things to say. Watch the whole panel below.
YodaNews talked to Freddie Prinze Jr., the voice of Kanan from Star Wars Rebels, about the role and Prinze offered some interesting teases for the end of season 1 and season 2. Here's the quote:
The end of season one Kanan will know what it means to be a Jedi. The selflessness necessary to be considered a master. Season 2 he learns how to let go. You'll learn his pain, in detail, in a scene Dave and I recorded in private. Kanan breaks down and gives you everything you've been wondering.
Speaking of upcoming episodes of Star Wars Rebels, Prinze confirmed on Twitter that the second season will have almost twice the amount of episodes. Plus, Billy Dee Williams confirmed to Cinelinx that he will return as Lando in some upcoming episodes of the Disney XD series.
Star Wars #2 hits later this week and Comic Book Resources has preview of a few pages. Here's just one.
Take a coffee break with the director of Star Wars Episodes 8 and 9.
Speaking to the Huffington Post, Oscar Isaac said this to the question of will The Force Awakens live up to fan expectations:
Abso-frickin-lutely. Without question. I think particularly fans of the universe will just be in ecstasy. But I think that even people that haven't — there are believe it or not still people that haven't seen or are not fans. I think this will win a lot of new fans. I just think it's been done with such love, such energy, that it'll be really compelling for everybody.
This isn't that big of a deal but Making Star Wars has some photos of how Star Wars took over Toy Fair in Nuremberg, Germany. They didn't show any of the new toys, but teased big things with this: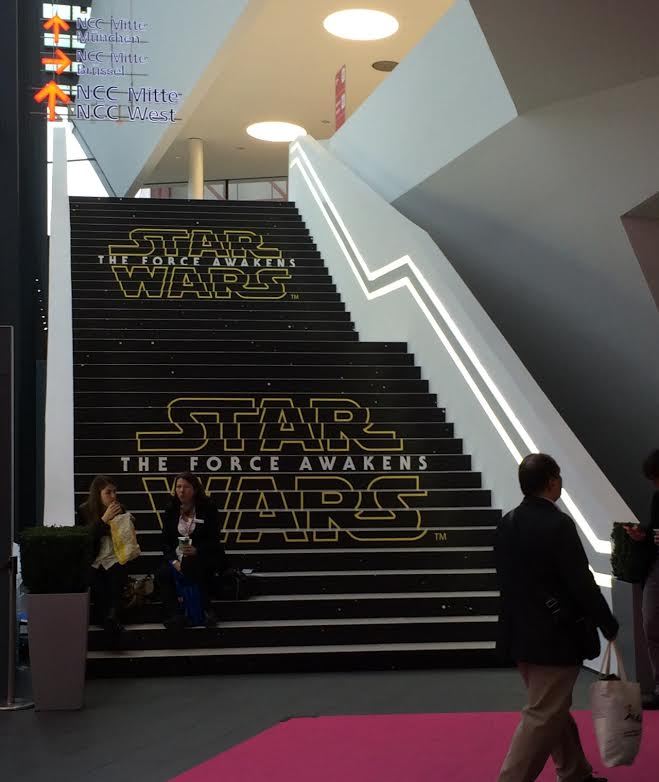 Star Wars 7 News has heard from a new source who appears to have a ton of information about Star Wars: The Force Awakens. We won't run any of the specifics here but if you are curious about possible but unconfirmed plot points for Rey, Poe Dameron, BB-8 and others, visit the previous link.
Making Star Wars has some less spoilerific Force Awakens details too. There, the site has run some possible descriptions of the costumes Han, Chewbacca and Leia wear in the film. Basically, the main thing is everything is simple. But head there for the unconfirmed details.