'Kingsman: The Secret Service' Super Bowl Trailer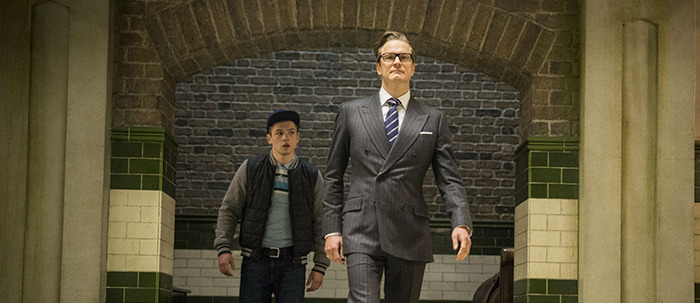 The British generally don't care for what we Americans call football, but that doesn't mean they won't take advantage of our addiction to the game. The James Bond homage Kingsman: The Secret Service is getting in on the Super Bowl excitement with a new spot, which you can watch after the jump. 
Yahoo premiered the Kingsman The Secret Service Super Bowl trailer. Like that Insurgent trailer we saw yesterday, this one is technically a "pre-game" trailer. There doesn't seem to be a ton of new footage here, just a relentlessly action-packed remix of stuff we've seen.
Kingsman: The Secret Service looks like James Bond by way of Kick-Ass, which... is exactly what it is. Like Kick-Ass, it's based on a graphic novel by Mark Millar, and like Kick-Ass, it was directed by Matthew Vaughn. It's a pretty simple "if you liked this, you'll love that" equation. Kingsman: The Secret Service seems to have the same colorful personality, poppy energy, stylish violence and irreverent sense of humor. A few of the early reviews call it flat-out obnoxious, which isn't surprising, but most seem to be on board with its cheery insanity.
Classy 007 type Colin Firth leads the actioner as a secret agent who recruits a talented street kid (Taron Egerton) into his organization. Samuel L. Jackson plays villain, who has a noticeable lisp because why not. Michael Caine, Mark Strong, Jack Davenport, Sofia Boutella, and Sophie Cookson also star.
Kingsman: The Secret Service opens in the U.S. on February 13. Your only other wide-release option this Valentine's Day weekend is Fifty Shades of Grey.
Based upon the acclaimed comic book and directed by Matthew Vaughn (Kick Ass, X-Men First Class), Kingsman: The Secret Service tells the story of a super-secret spy organization that recruits an unrefined but promising street kid into the agency's ultra-competitive training program just as a global threat emerges from a twisted tech genius.