Paul Thomas Anderson Praises 'Edge Of Tomorrow,' Discusses Music In 'Inherent Vice'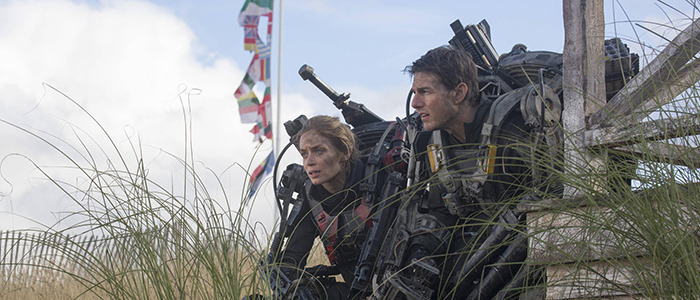 Interviews with Paul Thomas Anderson are still cropping up left and right as he's out in the public eye doing promotion for Inherent Vice, and we're not complaining. In a couple of new talks, the director expressed his enthusiasm for Edge of Tomorrow, a film we felt strongly about last year, and also talked about the process of choosing the excellent collection of music that brings additional life to Inherent Vice.
First up, Dazed talked to PTA, and that conversation drifted to the subject of Edge of Tomorrow, which starred the director's Magnolia co-star (and Oscar nominee) Tom Cruise.
Did you see Edge Of Tomorrow? It's f***ing great. And no one went to see that movie. That was Cruise at his best. You watch Tom Cruise, and you say 'There's no one else that can do that.' There's not a moment when you say, 'I could see someone else playing that part.' It never occurs to you. There's only one man that can do this, and it's Tom Cruise.
Meanwhile, Inherent Vice just hit the UK this past weekend, and Little White Lies has a big interview with Anderson to promote the local release. That interview goes into a lot of detail about Anderson's adaptation of Thomas Pynchon's novel, and talks about the idea of PTA shooting digital. ("Film is what worked for this film. I have a fear of the unknown. I've spent a long time trying to learn one camera, and to f***ing stop and try to learn another one... I would have to stop for 20 years! I'm a slow learner; I'd have to go through the manual... it would be starting over.")
Some of the best conversation in that interview is about the film's music.
Have you seen the movie Modern Romance? Where James Brooks is the director, and he's the most neurotic director, and after the screening he's like [does James Brooks impression]: 'I know they're going to say that there's wall-to-wall music, but I like the score!' That's exactly how I feel right now. I think it's important to always be conscious of the music, like, 'Is there too much of it? Is it out of the way, is it helping, is it okay?' And hopefully you land in a good spot where it is quiet from time to time. But yeah, there is a lot of music, helping push the story along.
But the score was a little more important to us than the songs. Hopefully, at its worst, it can just feel like a jukebox playing top 10 hits. But being able to play 'Journey to the Past', it's good to hear that song. It's a beautiful, beautiful song, and that's a version that's not often heard, so it was great to get that in there. Same thing with 'Harvest', same thing with all of it. The Minnie Ripperton song 'Les Fleur', which is great and by Maya [Rudolph]'s mom, and the Chuck Jackson song 'Any Day Now'. Any time you can get some Neil Young in there is a good feeling.
The book was so filled with musical references, and we used some of them. 'Here Come the Ho-Dads' was sort of earmarked from the book for when Doc goes up to Topanga Canyon, and that's a great surf song by the Marketts. But the others sort of fell away. I thought they'd be used, but they ended up not exactly fitting in. I've always wanted to work with Can's 'Vitamin C'. It has been used here and there before, so you have to get past that a little bit and realise, 'It is gonna fit well here, it's gonna be okay.' I mean look, there's no reason why an Asian-German lead singer and three white German guys should play that funky. Nothing that funky is coming out of Germany!