'Madame Bovary' Trailer: Mia Wasikowska Yearns For More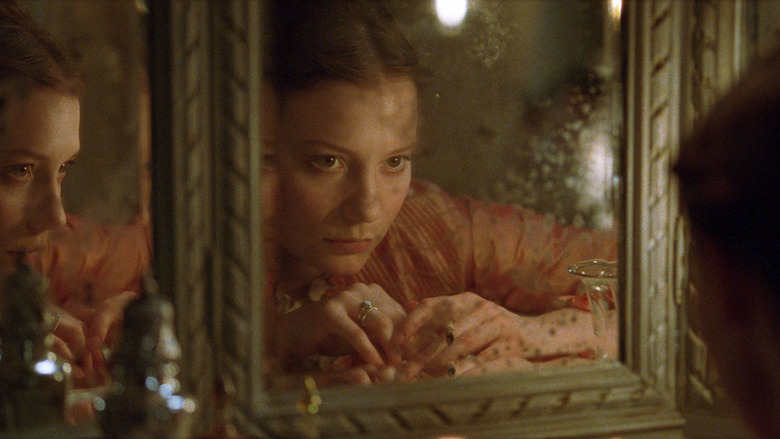 Having already tackled Alice in Wonderland for Tim Burton and Jane Eyre for Cary Fukunaga, Mia Wasikowska has found herself yet another adaptation of a literary classic about a young woman looking for more.
Directed by Sophie Barthes and based on the novel by Gustave Flaubert, Madame Bovary stars Wasikowska as Emma. She marries a small-town doctor and then becomes bored with her provincial life. Her drive for glamour, excitement, and passion send her down a self-destructive road, as she engages in extramarital affairs and racks up massive debts.
Henry Lloyd-Hughes plays Emma's husband, Ezra Miller and Logan Marshall-Green her paramours, and Rhys Ifans a local merchant. Paul Giamatti, Olivier Gourmet, and Laura Carmichael are also in the mix. Watch the Madame Bovary trailer after the jump. 
[YouTube]
Sadly, reviews out of the film festival circuit last year were not good. THR griped that Madame Bovary "has the ever-watchable Mia Wasikowska but very little else going for it, artistically or commercially." HitFix didn't even like Wasikowska, wondering if she was "simply miscast" — though they did praise the cinematography (by Andrij Parekh) and costumes (by Christian Gasc and Valérie Ranchoux) as "Oscar-worthy." Even Variety, who liked it more than most, admitted the movie was "measured and absorbing rather than deeply compelling or vital."
A few critics noted Barthes' decision to let the actors speak more or less in their native accents. Logically, it's no sillier than the usual historical drama approach of making everyone speak in generic British even when they're nowhere near England. But as The Guardian describes it, it makes for a strange experience: "This means Ezra Miller, as Emma's first chaste fling, chats as if he's on a gap year, Logan Marshall-Green (as the Marquis, her next paramour) comes off like a pouty daytime soap star."
Madame Bovary opens later this year.
Set in Normandy, France, Madame Bovary is Gustave Flaubert's classic story of Emma Bovary (Mia Wasikowska), a young beauty who impulsively marries small-town doctor, Charles Bovary (Henry Lloyd-Hughes), to leave her father's pig farm far behind. But after being introduced to the glamorous world of high society, she soon becomes bored with her stodgy husband and mundane life, and seeks prestige and excitement outside the bonds of marriage.