Iron Man Battles The Hulk In First 'Avengers: Age Of Ultron' TV Spot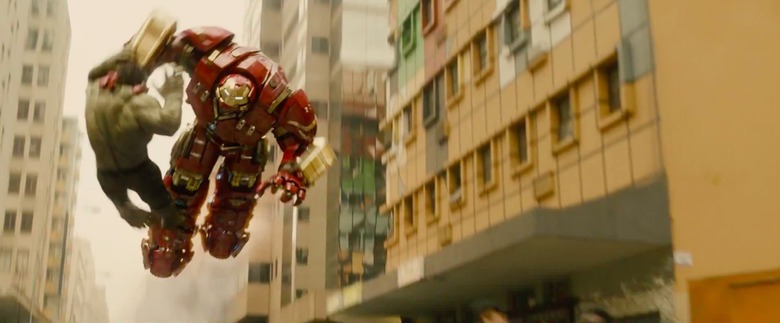 Unlike a lot of other big 2015 releases, Marvel isn't waiting til Sunday to unveil its first Avengers: Age of Ultron TV spot. It's here right now, and it features a Super Bowl-worthy showdown between Iron Man (Robert Downey Jr.) and the Hulk (Mark Ruffalo). Not to mention appearances by Black Widow (Scarlett Johansson), Captain America (Chris Evans), Thor (Chris Hemsworth), Ultron (James Spader), and more.
Marvel unveiled the first Avengers Age of Ultron TV spot on YouTube. It's admittedly short on new footage, but it's exciting and epic enough to make up for it.
I hate this. Not in the sense that I think this is a bad trailer, or a bad plotline, or a bad movie — I think it's a great trailer, and I hope it'll be a great plotline and a great movie — but in the sense that it makes my heart hurt to see the Science Bros turn on each other. What happened to the good old days of chugging beers and grappling with Mjolnir at Tony's?
Avengers: Age of Ultron lands in theaters May 1. Joss Whedon directed. Jeremy Renner, Samuel L. Jackson, Don Cheadle, Cobie Smulders, Stellan Skarsgård, Elizabeth Olsen, Aaron Taylor-Johnson, and Paul Bettany also star.
Marvel Studios presents "Avengers: Age of Ultron," the epic follow-up to the biggest Super Hero movie of all time. When Tony Stark tries to jumpstart a dormant peacekeeping program, things go awry and Earth's Mightiest Heroes, including Iron Man, Captain America, Thor, The Incredible Hulk, Black Widow and Hawkeye, are put to the ultimate test as the fate of the planet hangs in the balance. As the villainous Ultron emerges, it is up to The Avengers to stop him from enacting his terrible plans, and soon uneasy alliances and unexpected action pave the way for an epic and unique global adventure.
Marvel's "Avengers: Age of Ultron" stars Robert Downey Jr., who returns as Iron Man, along with Chris Evans as Captain America, Chris Hemsworth as Thor and Mark Ruffalo as The Hulk. Together with Scarlett Johansson as Black Widow and Jeremy Renner as Hawkeye, and with the additional support of Samuel L. Jackson as Nick Fury, Don Cheadle as James Rhodes/War Machine, Cobie Smulders as Agent Maria Hill and Stellan Skarsgård as Erik Selvig, the team must reassemble to defeat James Spader as Ultron, a terrifying technological villain hell-bent on human extinction. Along the way, they confront two mysterious and powerful newcomers, Wanda Maximoff, played by Elizabeth Olsen, and Pietro Maximoff, played by Aaron Taylor-Johnson, and meet an old friend in a new form when Paul Bettany becomes Vision.