'Fargo' Season 2 Casts 'Battlestar Galactica' Alum As Crime Boss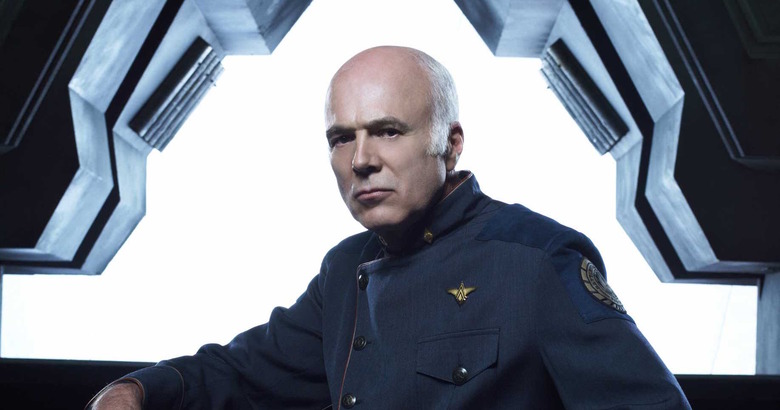 The cast of Fargo Season 2 just gets better and better. The newest member of the family is Michael Hogan, whom TV geeks will recognize as Colonel Saul Tigh from Battlestar Galactica. He joins a sprawling cast that also includes Patrick Wilson, Ted Danson, Jesse Plemons, and Kirsten Dunst. Get character details and more after the jump. 
TheWrap reported on the Fargo Michael Hogan casting, and describes the character as follows:
Hogan will play Otto Gerhardt, a first generation immigrant from Germany who took over his father's small trucking business and, through a mix of brutality and sheer will, turned it into a criminal empire that spans the upper Midwest. But he recently had a stroke and is now confined to a wheelchair, his every need taken care of by Indian servants.
Gerhardt has lost the ability to speak or feed himself or use the bathroom by himself. But he's too mean to die.
You may recall that Jean Smart was previously cast as Floyd Gerhardt, matriarch of the Gerhardt crime family. Presumably Hogan's character will be married to or otherwise related to her.
Otto shouldn't be too much of a stretch for Hogan, best known for playing cranky SOB Saul Tigh on the acclaimed sci-fi drama Battlestar Galactica. His other credits include TNT's Falling Skies, MTV's Teen Wolf and Catherine Hardwicke's Red Riding Hood.
Fargo Season 2 unfolds in 1979. Lou Solverson is a Vietnam vet turned Minnesota state patrolman and devoted husband. The character was played by Keith Carradine in the first season but will be portrayed by Patrick Wilson here.
Other characters include:
Ted Danson as Hank Larsson, Lou's father-in-law and the sheriff of Rock County
Nick Offerman as Karl Weathers, a local lawyer and Korean war vet
Brad Garrett as Joe Bulo, frontman for a Kansas City crime syndicate
Bokeem Woodbine as Mike Milligan, Joe's enforcer
Jeffrey Donovan as Dodd Gerhardt, Floyd's hotheaded eldest son
Angus Sampson as Bear Gerhardt, the middle Gerhardt son
Kieran Culkin as Rye Gerhardt, the youngest Gerhardt son
Kirsten Dunst as Peggy Blomquist, a small-town beautician with big-city dreams
Jesse Plemons as Ed Blomquist, Peggy's supportive husband and a butcher's assistant
Rachel Keller as Simone
Still remaining to be cast are Lou's wife Betsy, their young daughter Molly, Lou's fellow officer Ben Schmidt, and a pre-White House Ronald Reagan.
In a recent interview, Fargo creator Noah Hawley explained the plot of the new season:
It's about a small-town married couple who find themselves caught in the middle of a war between the last of the mom-and-pop crime syndicates and an out-of-town new corporate crime syndicate. It's about how the couple manages that situation.
Fargo Season 2 will air on FX this fall.