'Insurgent' Super Bowl Pre-Game Trailer: Shailene Woodley Is The One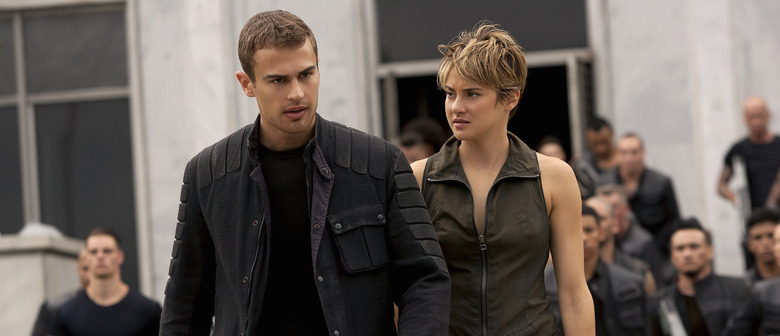 Forget Deflategate — Tris (Shailene Woodley) has real problems in the new Insurgent Super Bowl trailer. Like the fact that Erudite leader Jeanine (Kate Winslet) really wants her dead. And the fact that dystopian Chicago is full of very big windows into which one might crash, and very tall buildings off of which one might fall.
Watch The Divergent Series: Insurgent Super Bowl trailer after the jump. 
MTV premiered the Insurgent Super Bowl trailer. Well, technically, this isn't a Super Bowl trailer but a "Super Bowl pregame trailer." Which is just a quicker way of saying "We wanted to get in on the Super Bowl buzz, but there's no way in hell we're paying $4.5 million for 30 seconds of airtime."
There's no actual footage from the film in the spot. So the main thing we learn is that, yup, "The Divergent Series: Insurgent" sounds as stupid said out loud as it looks written down. Bet Veronica Roth is really regretting her decision to make all her book titles rhyme.
The Divergent Series: Insurgent opens March 20. Theo James, Ansel Elgort, Miles Teller, and Zoe Kravitz all return from the first film, and Octavia Spencer, Naomi Watts, and Daniel Dae Kim join the cast this time around. Robert Schwentke is directing.
THE DIVERGENT SERIES: INSURGENT raises the stakes for Tris as she searches for allies and answers in the ruins of a futuristic Chicago. Tris (Woodley) and Four (James) are now fugitives on the run, hunted by Jeanine (Winslet), the leader of the power-hungry Erudite elite. Racing against time, they must find out what Tris's family sacrificed their lives to protect, and why the Erudite leaders will do anything to stop them. Haunted by her past choices but desperate to protect the ones she loves, Tris, with Four at her side, faces one impossible challenge after another as they unlock the truth about the past and ultimately the future of their world.