'Angelica' Trailer: Jena Malone Gets Haunted In New Film From 'Teeth' Director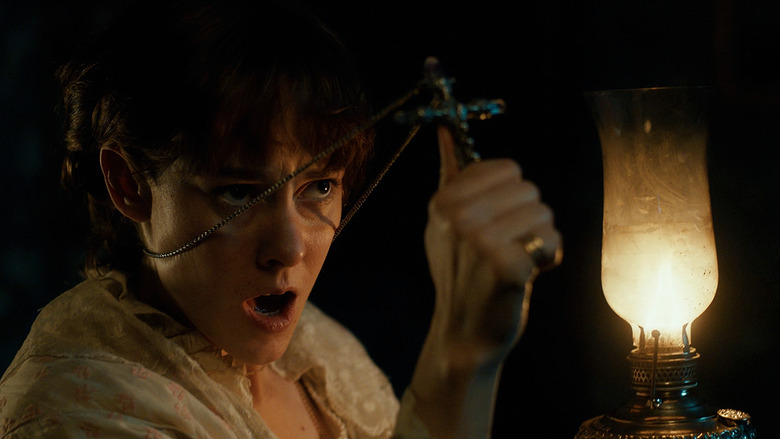 Teeth director Mitchell Lichtenstein is back with a very different kind of horror story. Based on the novel by Arthur Phillips, Angelica stars Jena Malone as a wife and mother haunted by spirits in Victorian England.
The Angelica trailer is full of the shadows, bumps, and ominous warnings typical of the genre, but there's a psychosexual bent to it that should keep things interesting. Ed Stoppard and Janet McTeer also star. Watch the Angelica trailer after the jump.
THR debuted the Angelica trailer. Between this and Guillermo del Toro's Crimson Peak, Victorian Gothic psychosexual horror seems to be having a moment this year.
It's a bit difficult to suss out the plot details from that trailer, but the book centers on Constance's marriage to medical researcher Joseph. As their young daughter Angelica is moved out of their bedroom, the couple is ordered to remain abstinent for the Constance's health. But Constance starts noticing strange things around the house, threatening her and her daughter. She turns to a spiritualist for help, which only complicates things further.
Lichtenstein's Teeth was a deliciously off-kilter take on a young woman's sexual coming of age, and we can hope he'll bring the same insight to Victorian sexual repression in Angelica. Though Phillips' book has drawn comparisons to classics like Henry James' Turn of the Screw and Shirley Jackson's The Haunting of Hill House, it's actually a modern publication — it just came out in 2008. 
Add in a starring turn by the reliably excellent Malone, and Angelica looks like a horror film well worth seeking out. Malone is currently best known for playing steely-edged Johanna in the Hunger Games movies, but scared, naive Constance feels like Johanna's polar opposite. Though it remains to  be seen what becomes of Constance after the spirits get ahold of her.
Angelica makes its world premiere at the Berlin International Film Festival next month.