Here's Your First Look At Michael Fassbender As 'Steve Jobs'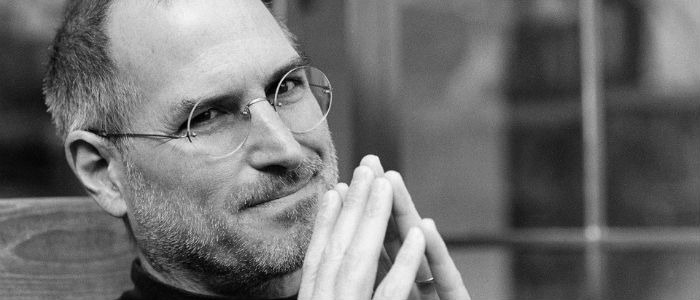 We know now a lot about the Danny Boyle directed, Aaron Sorkin written movie, Steve Jobs. We know the cast, we know the structure, but we don't know what that cast looks like as their real life counterparts. Primarily, Michael Fassbender as Jobs himself.
Universal Pictures has yet to release anything official, but some fans have been able to snap some – admittedly crappy – images of the cast on set. In them, you can not-so-clearly see Fassbender as the icon. See the Michael Fassbender Steve Jobs pics below.
Again – these are not great photos, but they're what we found poking around social media. Without further ado...Michael Fassbender as Steve Jobs via Facebook.
It's a terrible photo, yes. But you can see the hair and the posture there. That's clearly Fassbender as the Apple co-creator. Here's another photos from the same scene. If possible, this one is even worse.
Lurking on the set of the #SteveJobs movie shooting in Berkeley at Le Mediterranee with Boyle, Fassbender, Daniels. pic.twitter.com/zeaHIRv6A5

— Berenice (@thatBerenice) January 24, 2015
We also found a few others nuggets for anyone interested in the film. Such as this video of the crew setting up for filming at Jobs' old house (which will be used in a flashback)
There's also this "Picture" of Kate Winslet as Joanna Hoffman, the former marketing chief of Macintosh. Or at least, I think it is.
Here's the official information. We'll have more on Michael Fassbender Steve Jobs as soon as it's out there.
Universal Pictures today announced that principal photography has commenced in San Francisco on Steve Jobs. Set backstage at three iconic product launches and ending in 1998 with the unveiling of the iMac, the film takes us behind the scenes of the digital revolution to paint an intimate portrait of the brilliant man at its epicenter.
Steve Jobs is directed by Academy Award® winner Danny Boyle (Slumdog Millionaire, 127 Hours) and written by Academy Award® winner Aaron Sorkin (The Social Network, HBO's The Newsroom), working from Walter Isaacson's best-selling biography of the Apple founder. The producers are Mark Gordon (Saving Private Ryan, Source Code), Guymon Casady (HBO's Game of Thrones, Hope Springs) of Film 360, Scott Rudin and Academy Award® winner Christian Colson (Slumdog Millionaire, Selma).
Michael Fassbender (X-Men: Days of Future Past, 12 Years a Slave) will play Steve Jobs, the pioneering founder of Apple, with Academy Award®-winning actress Kate Winslet (The Reader, Eternal Sunshine of Spotless Mind) starring as Joanna Hoffman, former marketing chief of Macintosh. Steve Wozniak, who co-founded Apple, is played by Seth Rogen (Neighbors, The Interview), and Jeff Daniels (HBO's The Newsroom, Good Night, and Good Luck.) stars as former Apple CEO John Sculley. The film also stars Katherine Waterston (Inherent Vice, Being Flynn) as Chrisann Brennan, Jobs' ex-girlfriend, and Michael Stuhlbarg (A Serious Man, HBO's Boardwalk Empire) as Andy Hertzfeld, one of the original members of the Apple Macintosh development team.
Other members of the cast include Perla Haney-Jardine (Future Weather), Ripley Sobo (Winter's Tale) and Makenzie Moss (upcoming Do You Believe?) as young Lisa Brennan at various stages of her life, Sarah Snook (Predestination) as Andrea Cunningham, as well as Adam Shapiro (A Single Man) as Avie Tevanian.