New Behind The Scenes 'Better Call Saul' Trailer; Plus Episode Titles And Descriptions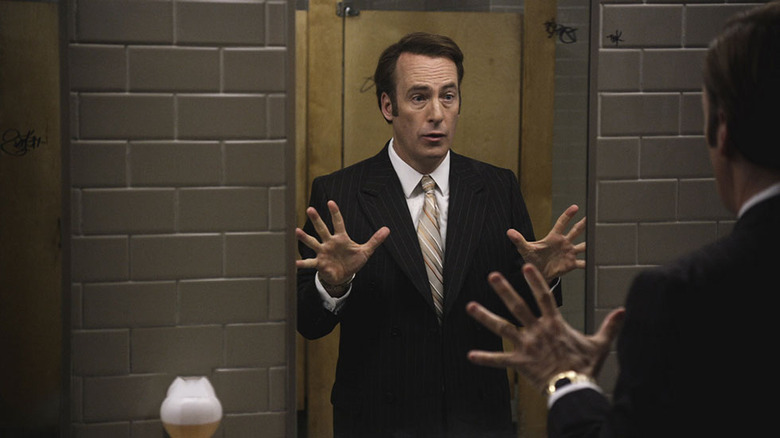 Breaking Bad fans can almost count on their hands the number of days until the premiere of Better Call Saul. It happens February 8 and, to get fans ready, AMC has released a ton of new information. There's a new Better Call Saul trailer that features behind the scenes footage, the titles and brief descriptions of the first few episodes, and a new overall synopsis to whet your appetite. Check it all out below.
AMC posted the below info, but thanks to ScreenCrush for the heads up. First up, the video:
New Better Call Saul Trailer
Next, here are the episode titles and descriptions:
Episode 1.01 – Uno - Jimmy tries an unconventional method for pursuing potential clients.
Episode 1.02 – Mijo - Jimmy's troubles escalate, leaving him in dire straits; carelessness puts Chuck at risk.
Episode 1.03 – Nacho - Jimmy is eager to prove that his dangerous client is innocent.
Episode 1.04 – Hero - Jimmy must face consequences when his relationships become strained.
Episode 1.05 – Jello - Alarming news disrupts Jimmy's efforts at drumming up new business.
You've gotta love the rhyming title names. I wonder if that'll be a season by season thing.
And finally, here's the description:
The series is set six years before Saul Goodman meets Walter White. When we meet him, the man who will become Saul Goodman is known as Jimmy McGill, a small-time lawyer searching for his destiny, and, more immediately, hustling to make ends meet. Working alongside, and, often, against Jimmy, is "fixer" Mike Ehrmantraut, a beloved character introduced in 'Breaking Bad.' The series will track Jimmy's transformation into Saul Goodman, the man who puts "criminal" in "Criminal lawyer." The series' tone is dramatic, woven with dark humor.
I'm anxiously awaiting the premiere of this show. I think it's going to be a tall task to match the quality and tension of Breaking Bad, but if Vince Gilligan and crew can even match half of it, Better Call Saul will be one of the best shows on TV.