'The Huntsman' Will Only Have Two Dwarves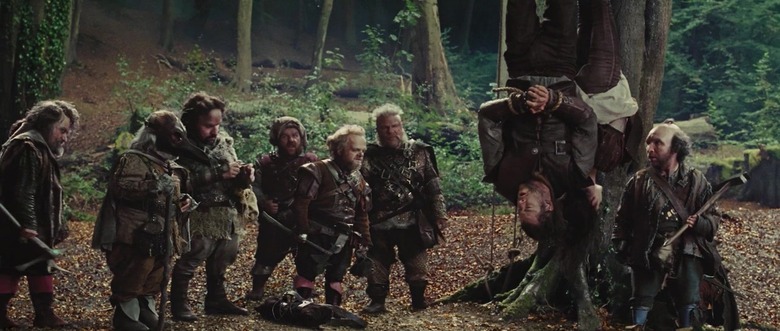 Snow White (Kristen Stewart) will be sitting out Universal's The Huntsman, and now it looks like most of her dwarf friends will be, too. Only two of the seven dwarves are expected to appear, according to a new report.
Still set to return are the evil queen (Charlize Theron), and of course the Huntsman himself (Chris Hemsworth). Cedric Nicolas-Troyan is directing. Find out who the Huntsman dwarves might be after the jump. 
In 2012's Snow White and the Huntsman, the seven dwarves were played by Ian McShane, Bob Hoskins, Johnny Harris, Toby Jones, Eddie Marsan, Ray Winstone, Nick Frost, and Brian Gleeson.
Deadline reports that of that group, Marsan is definitely out due to scheduling conflicts with Ray Donovan, and Frost and Jones have opted not to return. In addition, Hoskins passed away last year. So unless Universal calls for reinforcements, the two dwarves in The Huntsman will be played by some combination of McShane, Harris, and Gleeson.
Following the box office success of Snow White and the Huntsman, Universal wasted no time getting started on a follow-up. However, the project has been through some ups and downs since then, including the departure of director Frank Darabont earlier this month.
Fortunately, The Huntsman quickly got back on track with a new director. Nicolas-Troyan was the VFX supervisor and second-unit director on the first film. The Huntsman will be his first full-length feature, but the same was true of Rupert Sanders when he helmed Snow White and the Huntsman.
The script by Darabont is described as a prequel focusing on the lives of Eric the Huntsman and Ravenna the Evil Queen before they encountered Snow White. New characters include Ravenna's sister, who'll be the villain. Emily Blunt is in talks for that role.
The Snow White-less, mostly dwarf-free The Huntsman lands in theaters April 22, 2016.