Watch The Gorgeous Trailer For Mauritania's Oscar-Nominated 'Timbuktu'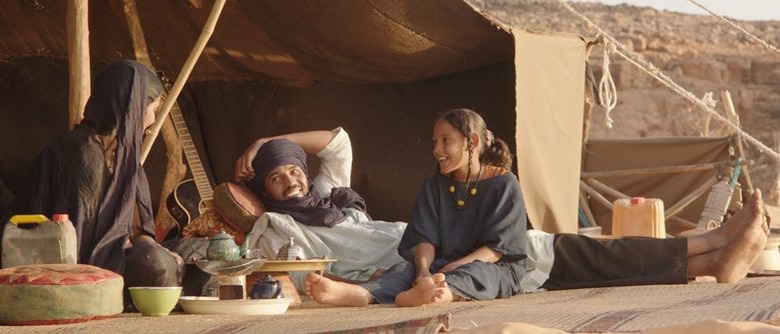 By now, you're probably well acquainted with the of Best Picture Oscar nominees. (And if not, that 24-hour marathon has you covered.) The Best Foreign Language Film contenders, on the other hand, remain a more mysterious bunch.
Among this year's crop is Timbuktu, Mauritania's first-ever entry for the prize. Though it's racked up praise on the festival circuit, it's only now getting a proper theatrical rollout in the U.S. Get yourself ready by watching the Timbuktu trailer after the jump.
Directed by Abderrahmane Sissako, the drama follows a family in fundamentalist-ruled Mali. The first trailer hints at the way a cruel regime intrudes into an otherwise peaceful existence. Happy family scenes give way to disturbing images of Jihadists with machine guns. Even a woman's serene singing is cut off by the sound of gunfire.
The film has received rave reviews from critics, who've called Timbuktu "an unflinching, quietly furious exploration of life under radical Islamist rule" and Sissako "one of the true humanists of recent cinema."
Timbuktu is in select theaters this weekend. Visit the Cohen Media website to find out if it's playing near you.
2015 Academy Award Nominee for Best Foreign Language Film! Not far from Timbuktu, now ruled by the religious fundamentalists, Kidane lives peacefully in the dunes with his wife Satima, his daughter Toya, and Issan, their twelve-year-old shepherd. In town, the people suffer, powerless, from the regime of terror imposed by the Jihadists determined to control their faith. Music, laughter, cigarettes, even soccer have been banned. The women have become shadows but resist with dignity. Every day, the new improvised courts issue tragic and absurd sentences. Kidane and his family are being spared the chaos that prevails in Timbuktu. But their destiny changes when Kidane accidentally kills Amadou, the fisherman who slaughtered "GPS," his beloved cow. He now has to face the new laws of the foreign occupants. Timbuktu is Mauritania's first entry for the Best Foreign Language Film Academy Award.