Disney Wants Chris Pratt For 'Indiana Jones'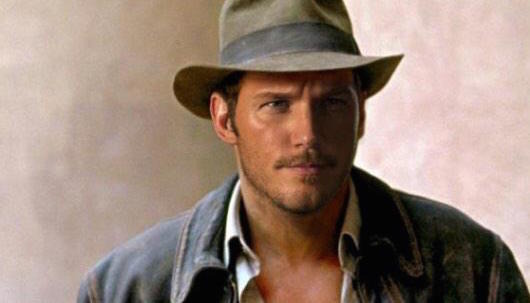 It seems the sky's the limit for Star-Lord. Hot off the massive success of Marvel's Guardians of the Galaxy, Chris Pratt is reportedly being eyed to lead Disney's revival of the Indiana Jones franchise. More on the possible Chris Pratt Indiana Jones casting after the jump.
Deadline cautions that nothing has been finalized. The studio's plans for Indiana Jones are still in the very early stages. However, they've heard that the studio wants to build a new Indiana Jones franchise around Pratt. He'd be playing the same swashbuckling archaeologist character portrayed by Harrison Ford in the original films.
A new Indiana Jones movie has been rumored pretty much since the last Indiana Jones movie (2008's Indiana Jones and the Kingdom of the Crystal Skull), but real progress has been slow. Even after Disney's acquisition of Lucasfilm in 2012, Indiana Jones 5 was said to be on the backburner.
But that's not to say Disney hasn't shown interest in bringing back Indy. The studio finally got the distribution rights back from Paramount in 2013. As of last year Disney CEO Bob Iger said he'd "love" to do more Indiana Jones, but that the studio was concentrating on getting its Star Wars franchise up and running first.
Pratt has been bouncing around Hollywood since the early 2000s, known mostly for TV shows like Everwood, The O.C., and Parks and Recreation. But he cemented his status as a bona fide movie star last year with the dual successes of The Lego Movie (in which he voiced the lead role) and Guardians of the Galaxy.
Now he's got offers flying at him left and right. He's in talks for Antoine Fuqua's The Magnificent Seven remake with Denzel Washington, and is attached to lead the Universal comic book adaptation Cowboy Ninja Viking. In addition, he's set to return for Guardians of the Galaxy 2 in 2017. It's not a stretch to imagine he'll be back for more Lego Movies and the inevitable Jurassic World sequel, either.
As for what Pratt might look like as everyone's favorite archaeologist / adventurer, check out the full-sized version of the Photoshopped image from the header:
"@slashfilm: Disney Wants @prattprattpratt for Indiana Jones" I wasn't too jazzed until I saw this photoshop...Yow! pic.twitter.com/GLG9viYnqy

— Justin🎃Boldaji (@justinboldaji) January 27, 2015