Tyrese Gibson Really Wants To Be 'Green Lantern'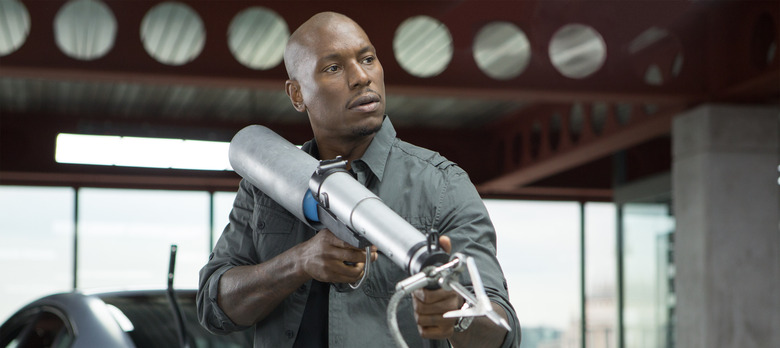 Some actors play coy or stay vague about the roles they hope to win, but not Tyrese Gibson. The Furious 7 star really, really wants to play Green Lantern in Warner Bros.' DC franchise, and he's very eager to let the world know it.
Gibson has started posting pictures of himself as the superhero, including several pieces of fan art. Check out the Tyrese Gibson Green Lantern campaign after the jump. 
THR noticed Gibson's Green Lantern campaign taking shape on Instagram. On January 23, he posted a photo with the caption "Rumor has it that."
He's continued lobbying for the Green Lantern role over the next few days. Further Photoshopped pics feature captions like "Idris fall back I got this!" and "I am fully committed to suiting up for this adventure." Gibson also helpfully points out that a Facebook image of himself as Green Lantern has been viewed 9 million times, earning 265,000 likes.
Dope! @bosslogix strikes again...... Design something dope..... And I will repost... #Tag you in it.....
A photo posted by TYRESE (@tyrese) on Jan 24, 2015 at 8:50pm PST
Just wanted to drop in and say hello..... #GLPowerMoves #KissTheRing I respect the culture.....
A photo posted by TYRESE (@tyrese) on Jan 25, 2015 at 11:23am PST
DETERMINED!!!!!! 20|20 shout to @bosslogix "I am fully committed to suiting up for this adventure" – @Tyrese #GL "In brightest day, in blackest night, No evil shall escape my sight. Let those who worship evil's might, Beware my power, Green Lantern's light!!!
Warner Bros. / DC has a Green Lantern movie scheduled for June 19, 2020. The character is likely to debut before that, though, as Warner Bros. also has two Justice League films planned for 2017 and 2019.
Ryan Reynolds played Green Lantern in the 2011 film, but isn't expected to reprise the role in upcoming Warner Bros. / DC movies. It's unclear whether DC's new Green Lantern will be Hal Jordan or one of the many other characters who've worn the ring, such as John Stewart, Guy Gardner, or Kyle Rayner.
Gibson already has a couple of big franchises under his belt. He'll be seen this spring in Fast 7, which happens to star a bunch of other superheroes: Dwayne Johnson is in WB/DC's Shazam; Gal Gadot will be WB/DC's Wonder Woman; Vin Diesel was in Marvel's Guardians of the Galaxy and has been hinting at an Inhumans role. In addition, Gibson played Epps in the first three Transformers films.