'Child 44' Trailer: Tom Hardy Chases A Killer In Soviet Russia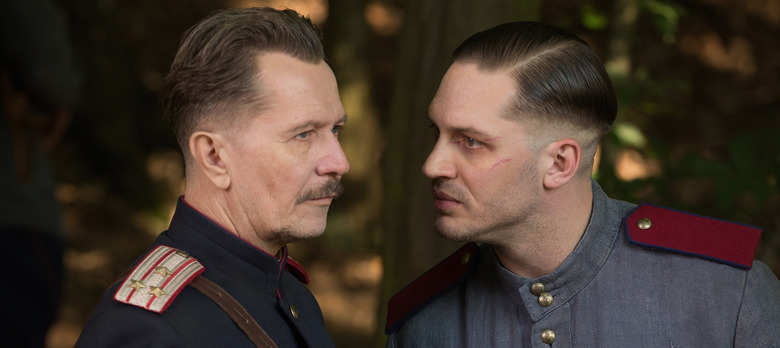 Tom Hardy has never met an accent he didn't like, whether it's Bostonian in The Drop, Welsh in Locke, or whatever the hell he's doing in The Dark Knight Rises. In his new movie Child 44, he gets to take midcentury Russian out for a spin.
Directed by Daniel Espinosa (Safe House), the thriller follows police agent Leo Demidov (Hardy) in Soviet-era Russia. When he begins investigating a serial killer who targets young boys, he attracts the wrath of the state, which refuses to acknowledge the crimes at all.
Noomi Rapace plays Leo's wife Raisa, Gary Oldman is General Mikhail Nesterov, and Joel Kinnaman is Leo's rival. Jason Clarke, Paddy Considine, and Vincent Cassel also star. Watch the Child 44 trailer after the jump. Apple has the first Child 44 trailer in HD.Child 44 is based on the novel by Tom Rob Smith, which is the first of a trilogy. So if you dig this film, there could be more where that came from. The accents are a bit distracting in the first Child 44 trailer, but the overall vibe looks heavy and exciting.
Lionsgate has Child 44 dated for April 17. Ridley Scott served as producer.
A politically-charged serial killer thriller set in 1953 Soviet Russia, CHILD 44 chronicles the crisis of conscience for secret police agent Leo Demidov (Tom Hardy), who loses status, power and home when he refuses to denounce his own wife, Raisa (Noomi Rapace), as a traitor. Exiled from Moscow to a grim provincial outpost, Leo and Raisa join forces with General Mikhail Nesterov (Gary Oldman) to track down a serial killer who preys on young boys. Their quest for justice threatens a system-wide cover-up enforced by Leo's psychopathic rival Vasili (Joel Kinnaman), who insists "There is no crime in Paradise." Summit Entertainment presents in association with Worldview Entertainment a Scott Free production, a Daniel Espinosa film.