The First 'Fantastic Four' Trailer Is Here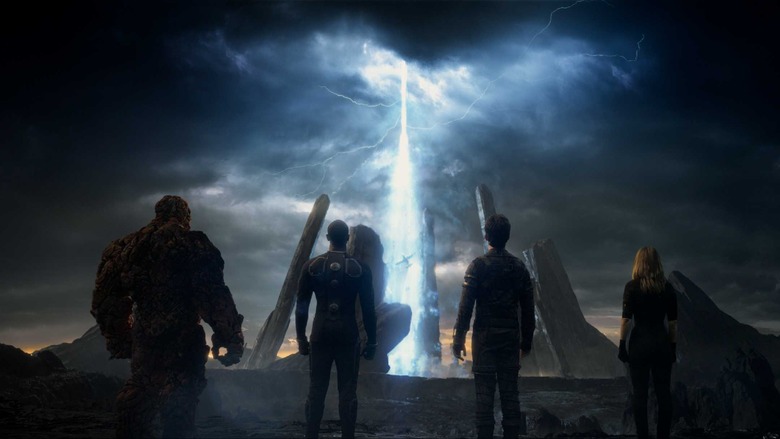 The wait is over! Hot on the heels of our very first official look behind the scenes of Fantastic Four, comes the very first trailer for Fantastic Four.
Josh Trank directs the Marvel Comics adaptation, starring Miles Teller as Reed Richards / Mr. Fantastic, Kate Mara as Sue Storm / Invisible Woman, Michael B. Jordan as Johnny Storm / Human Torch, Jamie Bell as Ben Grimm / The Thing, and Toby Kebbell as Victor Domashev. Watch the Fantastic Four trailer after the jump.
UPDATE #1: See some high-res screengrabs from the trailer, see the first poster, and watch a version of the trailer with commentary from the filmmakers.
UPDATE #2: A newly discovered Easter egg within the trailer offers a juicy hint about the plot.
Fox unveiled the Fantastic Four trailer on YouTube.
UPDATE #1: Here's the version with commentary by Trank and Kinberg, from Yahoo. Screencaps are below that.
UPDATE #2: As pointed out on Reddit (and as promised by Kinberg), there's an Easter egg hidden in the trailer! At 0:45, the IP address 23.21.190.125 can be seen onscreen. Enter that into your browser, and it'll take you to one of several pages about Latveria — a fictional Eastern European country ruled by Victor Von Doom.
While many of 2015's big blockbusters began their promotional campaigns months ago, Fox held back with Fantastic Four. Until yesterday, we hadn't so much as seen an official photo. That led some fans to worry, but Trank has insisted they just wanted to make sure the first reveal was a good one. Especially since it's the first film in a franchise, and viewers don't know what to expect.
"[W]e really want the audience to have the proper reaction to this material seeing it for the first time," he said in an interview. "You've really got to put your best foot forward. You can't just leak an image to strike up a conversation. You want people to see something that has thought behind it. And the teaser should do just that."
The first Fantastic Four trailer certainly gets the trick done. It immediately establishes a somber (but not overly grim) tone and grounded feel for the film. Actually, the trailer Fantastic Four might resemble most is Interstellar, another sci-fi adventure introduced with a contemplative voiceover about man's place in the universe.
There's still a lot we haven't seen, of course. Any Fantastic Four movie is going to live or die by the bond between the heroes, and we barely get to see the characters talk in this trailer, let alone interact with one another. But so far, at least, it seems like we're off to an auspicious start. Now that the wait for the trailer has ended, the wait for the film's premiere begins.
Fantastic Four opens August 7. Toby Kebbell also stars, as villain Victor Domashev. Simon Kinberg and Jeremy Slater wrote the script.
FANTASTIC FOUR, a contemporary re-imagining of Marvel's original and longest-running superhero team, centers on four young outsiders who teleport to an alternate and dangerous universe, which alters their physical form in shocking ways. Their lives irrevocably upended, the team must learn to harness their daunting new abilities and work together to save Earth from a former friend turned enemy.