Jonathan Nolan Says 'Westworld' HBO Series Will Exploit Our Technological Anxieties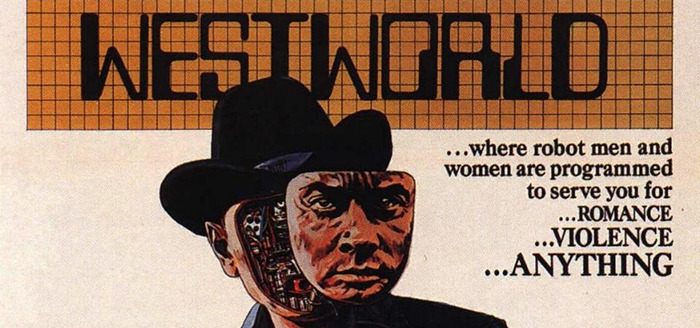 The upcoming HBO series Westworld is one we can't wait to see. The show uses Michael Crichton's original film as a starting point — it provides the concept of an amusement park for adults that is staffed by automatons, and where things break down and cause some very big problems. (Not unlike that other Crichton story, Jurassic Park.) The show comes from Jonathan Nolan and Lisa Joy, and stars Anthony Hopkins, James Marsden, Evan Rachel Wood, Ed Harris, and Jeffrey Wright. It has been called "a dark odyssey about the dawn of artificial consciousness and the future of sin," which sounds great. Now Nolan and Joy are talking about the Westworld HBO series, and their comments are promising. 
Nolan explains to EW that he got a call from JJ Abrams last year expressing interest in doing a new version of Westworld. Nolan and Lisa Joy got cracking, and realized that "this had literally everything that we're interested in in one series."
Nolan praises the foresight of Crichton, who wrote Westworld before there were video games, and before The Terminator, and the first computer virus:
What you feel in the film is there's this larger world that he barely has time to explore. It leaves you breathless. Westworld goes from one f–king massive idea to the next. At one point in there, he references why the robots are misbehaving. He describes the concept of the computer virus. When they were shooting the film it was the same year, or the year before, the appearance of the first actual computer virus. This is why Crichton was so brilliant. He knew so much about the technologies that were about to emerge, spent so much time thinking about how they would actually work.
Nolan and Joy are reluctant to say much about the androids in the film. Presumably that shot of Ed Harris above — he's playing The Man in Black — indicates that there's some visual continuity between the new show and the original film. But that may be where similarities end. At least, we can expect the androids here to be a lot more intelligent.
Joy does note,
...the kind of science that we're talking about has become closer to "science" than it is to the "fiction" part of "science-fiction." I think we're standing at an interesting precipice from which to both view the future and to hypothesize about the future. I think that all of that new information will help add new dimensions to this world.
One thing Nolan says makes the new Westworld sound like something that will almost approach horror:
I would say, picture your neurosis. Picture the things that keep you up at night—human behavior, artificial intelligence—any of those things that trouble you, worry you. That is exactly what the show is about. We are hoping to exploit all of those anxieties... We're incredibly excited about it, both on the narrative level and on a cinematic level.