'Mission: Impossible 5' Climbs Up To Summer 2015; 'Monster Trucks' Moves To Christmas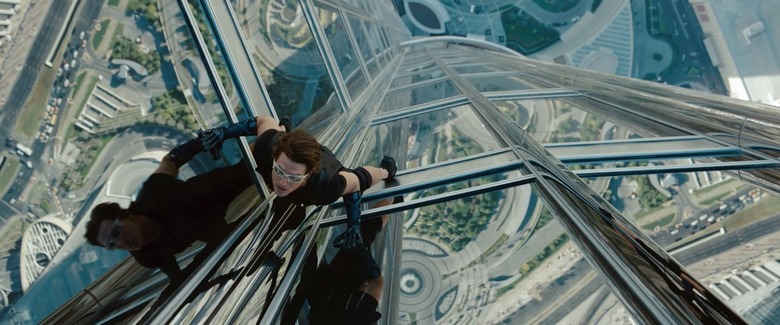 Ethan Hunt will be embarking on his next adventure a bit earlier than expected. Paramount has bumped up Mission: Impossible 5 by five months to summer 2015. Meanwhile, Monster Trucks is being delayed by seven months so it can take Mission: Impossible 5's old Christmas 2015 berth.
More details on the Mission Impossible 5 release date change after the jump. 
Paramount announced today that Mission: Impossible 5 will now open July 31, 2015, opposite Antoine Fuqua's boxing drama Southpaw, Tarsem Singh's sci-fi thriller Selfless, and the Point Break remake. The Sony comedy Grimsby recently vacated that weekend, giving Paramount room to move in.
The five-month shift means Mission: Impossible 5 filmmakers will be rushing a bit, even if it's expected to shoot earlier than expected. But it may be worth it to get the film away from two big competing franchises: the Bond outing Spectre, which is set for November 6, and Star Wars: The Force Awakens, which debuts December 18. We've also heard a rumor that Paramount wants to make sure it has a big summer hit in case its other July release, Terminator: Genisys, falls flat.
The date change puts Mission: Impossible in the same weekend that Guardians of the Galaxy occupied last summer. It proved to be an auspicious position for the Marvel actioner, which went on to become the highest-grossing release of the season. Maybe the slot will work its magic for Mission: Impossible 5, too.
Meanwhile, Monster Trucks will be taking the December 25, 2015 spot formerly reserved for Mission: Impossible 5. It was previously set for Memorial Day weekend (May 29). It's now up against the David O. Russell's Joy and Alvin and the Chipmunks 4, plus Alejandro González Iñárritu's The Revenant in limited release. Talk about a wide range of options.
Mission: Impossible 5 once again stars Tom Cruise as IMF agent Ethan Hunt. Jeremy Renner, Simon Pegg, and Ving Rhames return from previous installments, and Alec Baldwin, Rebecca Ferguson, Sean Harris, and Simon McBurney join the cast. Christopher McQuarrie is directing. Shooting began last August.Monster Trucks is directed by Chris Wedge and stars Lucas Till, Jane Levy, Barry Pepper, Amy Ryan, Rob Lowe, Danny Glover, Holt McCallany, and Thomas Lennon. Filming began last spring in Vancouver.
[Source: Box Office Mojo]