VOTD: Watch The 'Full House' Cast Reunite To Sing The 'Full House' Theme Song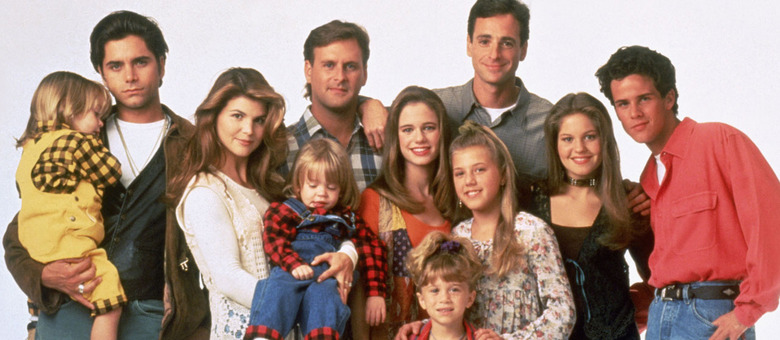 For a while now, there's been talk of a potential Full House sequel. It hasn't come to pass quite yet, but today we present to you the next best thing: a video of the Full House cast reuniting to sing (or at least, try to sing) the Full House theme song. Check it out after the jump. 
Full House actress Andrea Barber posted the video on Instagram (via Vulture). It comes from this weekend's birthday party for Full House creator Jeff Franklin.
Only for you, Jeff Franklin. Only for you. Happy Birthday. #everywhereyoulook #whatsmyline? #onlyknewthechorus #cantgetthisdamnsongouttamyhead @candacecbure @loriloughlin @bobsaget @johnstamos *Edited: Who has a better, full version of this?? I saw all those iPhones out there pointed at us!!
A video posted by Andrea Barber (@andreabarber) on
In attendance were Bob Saget (Danny Tanner), John Stamos (Uncle Jesse), Lori Loughlin (Aunt Becky), Candace Cameron Bure (DJ), Jodie Sweetin (Stephanie), and Barber (Kimmy Gibbler). They were joined onstage by Jesse Frederick, who sang the original theme song, and Franklin himself. The gang seems to be having some trouble with the lyrics, but it's the thought that counts.
If all goes well, this group could be seeing a lot more of each other very soon. Stamos, Saget, and Coulier reunited last year for an Oikos Yogurt Super Bowl commercial. At the time, Stamos teased another Full House project in development. "We're sort of working on a twist on a sequel," he said at the time. "But we don't know if it's going to happen yet or not."
Some months later, the mystery project was revealed to be a potential Full House reboot. Stamos is leading the charge with Franklin and original Full House executive producer Bob Boyett for the show, which would star Bure, Sweetin, and Barber. Saget and Dave Coulier (Uncle Joey) would also be involved. Mary-Kate and Ashley Olsen probably have better things to do, seeing as they're big-time fashion designers now.
The original Full House ran for 8 seasons on ABC, from 1987 to 1995.