Joss Whedon Talks 'Avengers: Infinity War' Plus New Stills From 'Age Of Ultron'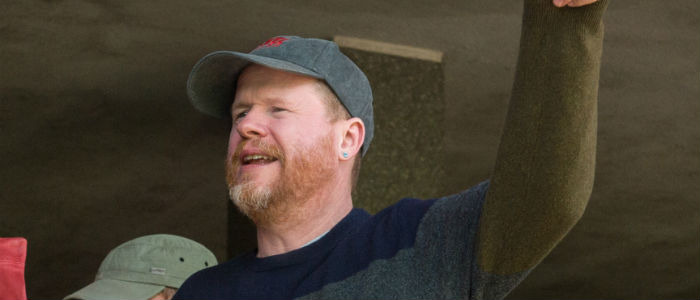 Joss Whedon is currently working very hard on giving audiences a worthy follow-up to one of the biggest films of all time, The Avengers. Avengers: Age of Ultron is a few short months away and the new issue of Empire Magazine had a bunch of new images about that film. They also asked Whedon about his future in the Marvel Universe, specifically whether or not he'll be back for Avengers: Infinity War Parts 1 and 2. We'd heard that the Russo Brothers would be helming those films after Captain America: Civil War so Whedon's quote probably won't surprise you, but you can read it and see the new images below.
FIrst up, here's the Joss Whedon Avengers 3, and 4, quote.
I couldn't imagine doing this again. It's enormously hard, and it [will] be, by [the time I would make 'Avengers 3 & 4'], a good five years since I created anything that was completely my own. So it's very doubtful that I would take on the two-part Infinity War movie that would eat up the next four years of my life. I obviously still want to be a part of the Marvel Universe – I love these guys – but it ain't easy. This year has been more like running three shows than any year of my life. It is bonkers.
Pretty much what we expected, though it'll be very interested to see what role he fills moving ahead. Will he continue to write the films? Serve as producer? We'll have to see.
Also in the new Empire, here are a bunch of images from Age of Ultron. Thanks to Comic Book Movie for the scans.
Marvel Studios presents "Avengers: Age of Ultron," the epic follow-up to the biggest Super Hero movie of all time. When Tony Stark tries to jumpstart a dormant peacekeeping program, things go awry and Earth's Mightiest Heroes, including Iron Man, Captain America, Thor, The Incredible Hulk, Black Widow and Hawkeye, are put to the ultimate test as the fate of the planet hangs in the balance. As the villainous Ultron emerges, it is up to the Avengers to stop him from enacting his terrible plans, and soon uneasy alliances and unexpected action pave the way for an epic and unique global adventure.
Marvel's "Avengers: Age of Ultron" stars Robert Downey Jr., who returns as Iron Man, along with Chris Evans as Captain America, Chris Hemsworth as Thor and Mark Ruffalo as The Hulk. Together with Scarlett Johansson as Black Widow and Jeremy Renner as Hawkeye, and with the additional support of Samuel L. Jackson as Nick Fury and Cobie Smulders as Agent Maria Hill, the team must reassemble to defeat James Spader as Ultron, a terrifying technological villain hell-bent on human extinction. Along the way, they confront two mysterious and powerful newcomers, Wanda Maximoff, played by Elizabeth Olsen, and Pietro Maximoff, played by Aaron Taylor-Johnson, and meet an old friend in a new form when Paul Bettany becomes Vision. Written and directed by Joss Whedon and produced by Kevin Feige, Marvel's "Avengers: Age of Ultron" is based on the ever-popular Marvel comic book series "The Avengers," first published in 1963. Get set for an action-packed thrill ride when The Avengers return in Marvel's "Avengers: Age of Ultron" on May 1, 2015.