David Tennant Joins Marvel's 'AKA Jessica Jones' As Villain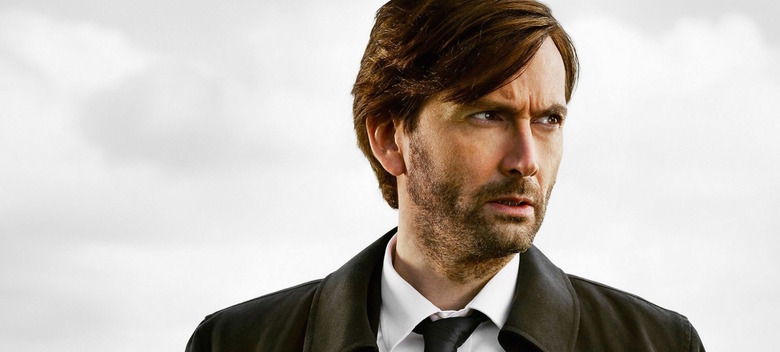 The gregarious Tenth Doctor will be taking a dark turn in the Marvel Cinematic Universe. David Tennant is set to join Marvel's upcoming Netflix series AKA Jessica Jones as Zebediah Killgrave, a villain with ties to Jessica Jones' (Krysten Ritter) past. Hit the jump for more on the David Tennant AKA Jessica Jones casting. 
Netflix announced the news. Here's the official synopsis for AKA Jessica Jones.
After a tragic ending to her short-lived super hero stint, Jessica Jones (Krysten Ritter, Don't Trust the B—- in Apt. 23) is rebuilding her personal life and career as a detective who gets pulled into cases involving people with extraordinary abilities in New York City.
Killgrave is described as "an enigmatic figure from Jessica's past [whose] reappearance will send shockwaves through the former super hero's world." Also starring is Mike Colter as Luke Cage, ahead of his own Netflix series.
In the comics, Killgrave is also known as The Purple Man because he's literally purple. But don't let his Grimace-like appearance fool you — the same chemical accident that turned him violet also granted him the ability to produce pheromones that can control other people's minds. He also has an accelerated healing factor. It's not yet clear how closely the television show's version of the character will follow the books'.
Tennant is best known for his stint on the BBC's Doctor Who, which ended in 2008. More recently, he starred in the U.K. crime drama Broadchurch and its American remake, Fox's Gracepoint. His other notable roles include Harry Potter and the Goblet of Fire and Fright Night.
AKA Jessica Jones will premiere on Netflix later this year with 13 episodes. It will be the second of Netflix's Marvel shows, following April's Daredevil. Luke Cage and Iron Fist come next. All four leading superheroes will then team up for a fifth series titled The Defenders.