Adam Sandler's First Netflix Movie Will Be 'Ridiculous 6'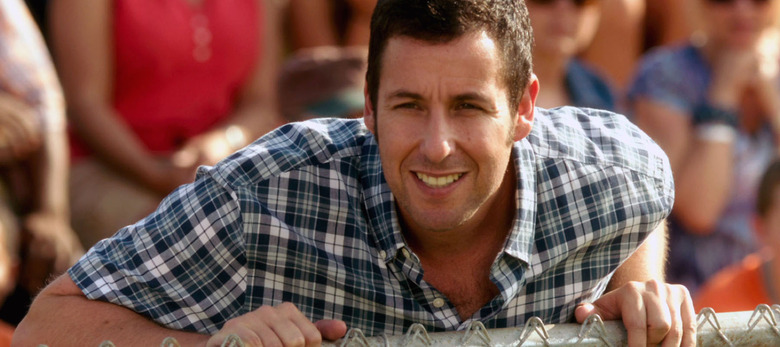 Adam Sandler's first picture for Netflix is taking shape. Sandler is set to star in Ridiculous 6 with Taylor Lautner, Rob Schneider, Luke Wilson, and Terry Crews. Also appearing will be Nick Nolte, Steve Buscemi, and Dan Aykroyd. More on the Adam Sandler Ridiculous 6 movie after the jump. TheWrap got the scoop. In addition to all the actors named above, Ridiculous 6 will feature Will Forte, Nick Swardson, Blake Shelton, Jon Lovitz, Vanilla Ice, Whitney Cummings, Steve Zahn, Danny Trejo, Chris Parnell, and Lavell Crawford.Ridiculous 6 is the first project to come out of the four-picture deal that Sandler signed with Netflix last fall. Production is scheduled to begin in February. No release date has been set.
As the title suggests, Ridiculous 6 is a play on ensemble Westerns like The Magnificent Seven. (And Quentin Tarantino's upcoming Hateful Eight, I suppose.) The script, by Sandler and Tim Herlihy (Grown Ups 2), follows a man (Sandler) who grew up an orphan among an Indian tribe.
He has five half-brothers played by Lautner, Schneider, Wilson, and Crews. The last half-brother has not yet been cast. Nolte plays Sandler's long-lost father.
Lovitz is a wealthy industrialist, and Cummings is his flirty wife. Parnell will be a bank manager and Buscemi a local jack-of-all-trades. Forte and Trejo will portray the leaders of rival gangs. A few historical figures are getting into the mix as well: Shelton will play Wyatt Earp, and Vanilla Ice is Mark Twain.
Ridiculous 6 was developing at Sony and Paramount before Sandler took it with him to Netflix. No details have revealed about the others, but it's probably reasonable to assume they'll be comedies. In the press release announcing the deal, Sandler explained he'd signed on because "Netflix rhymes with 'wet chicks.'"
Sandler's upcoming non-Netflix projects include Jason Reitman's The Cobbler (which made its festival debut last year), Sony's Pixels and Sony Pictures Animation's Hotel Transylvania 2.