'Dope' Is A Fresh '90s-Inspired Coming Of Age Adventure: 'Superbad' Meets 'Go'

Note: This review was originally published during Sundance, in January 2015.
Four days in, Rick Famuyiwa's Dope is the best film I've seen so far at the 2015 Sundance Film Festival. A coming of age story for the "post hip hop generation" best described as a mix of three films: Doug Liman's Go, Greg Mottola's Superbad and John Singleton's Boyz n the Hood.  I'm posting this review the morning after the premiere and its being reported that six studios are rabidly bidding to distribute this film — its insanely accessible movie for a Sundance film and will sure to be a hit that lives on past its festival and theatrical runs. Read my Dope review after the jump.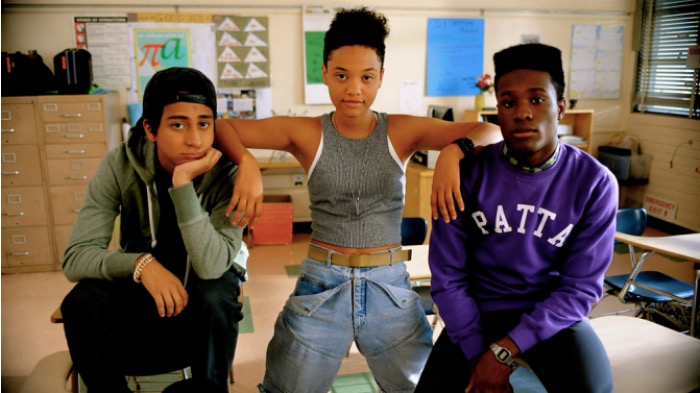 The story follows a group of modern-day over achieving geeks obsessed with 90's music, fashion and pop culture. At the center of which is Malcolm, a high school senior whose dream is to attend college at Harvard. A chance encounter leads the group to an underground party which kickstarts them on an outlandish yet somehow plausible adventure filled with the worst choices possible.
The film has a lot to say about growing up black in a bad neighborhood with bigger dreams than can be afforded. It's about subverting expectations and staying true to yourself in the most impossible no win situation. The film provides an interesting portrait of "The Bottoms" area of Inglewood California, filled with gangsters and drug dealers. Inglewood native Famuyiwa said during the question and answer session that the area presents those that grow up there with choices, usually either horrible or worse.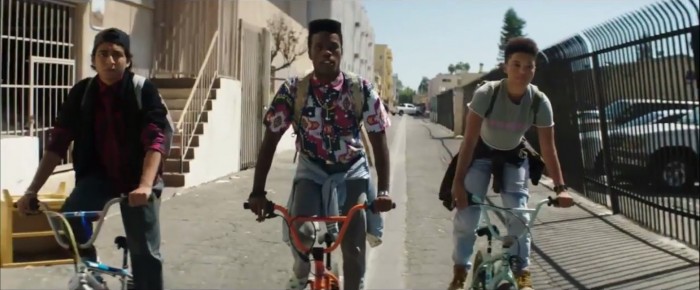 Dope is much deeper than its pop culture throwback shell, featuring high school characters with complexity and authenticity played by a  trio of amazing young actors — Shameik Moore gives a breakout performance as Malcolm and we get to see more of Tony Revolori, probably best known as Zero from Wes Anderson's Grand Budapest Hotel.
The spunky Kiersey Clemons, best known as Bianca on Amazon's Transparent, rounds out the trio. I predict we'll see all three actors in some big movies in the next few years.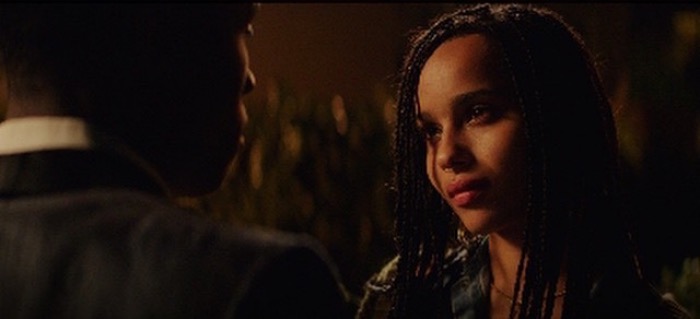 Forest Whitaker provides some sparse voice over narration and Zoe Kravitz is provided as compelling bait for Malcolm's crazy sprawling adventure (Famuyiwa said that Zoe was the movie's Penny Lane, a complimentary reference to Cameron Crowe's Almost Famous).
The film has the energy of a 90's indie film but feels cleverly contemporary. I was impressed that the screenplay, also written by 40-something Famuyiwa, was filled with often-time clever yet organic references to Bitcoin, Amazon, Find My iPhone, Waze, Snapchat, and much more. There is a party sequence which is shown in retrospect through the brilliant use of social media. Another standout is the amazing, from start to finish, 90s hip hop soundtrack. Without a doubt, the best 1990s movie soundtrack since The Wackness.
The film opens with Naughty By Nature's "Hip Hop Hooray" and features original music by Pharrell Williams (the main trio have a nerdy punk band).  The movie is filled with hip hop credit, from rapper A$AP Rocky who plays a major role to PDiddy Sean Combs is an executive producer.
While the story is linear for the most part, the screenplay offers us a few flashbacks which sometimes further connect the characters and stories like a well constructed puzzle.
Dope is charming and poignant — an incredibly relatable urban dramedy that works on almost every level.
/Film Rating: 9 out of 10