Rumor: Who Is Andy Serkis Playing In 'Avengers: Age Of Ultron'?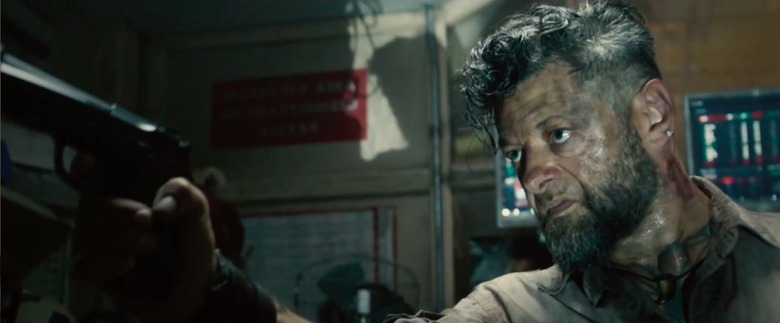 As happy as we were to see Andy Serkis in the Avengers: Age of Ultron trailer — because more Andy Serkis is always a good thing — we couldn't quite figure out what he was doing there. The actor revealed his involvement in the film last year, but declined to say which character he'd be playing.
Of course, that hasn't stopped rumors from swirling. The latest one to gain traction suggests Avengers: Age of Ultron may be just the beginning for Serkis — if it's true, he'll have a much bigger role to play in Phase Three. Hit the jump for the Andy Serkis Avengers rumor. 
Schmoes Know writes that a "very trusted" source has told them Serkis will play Ulysses Klaw. It's not a very surprising reveal. Fans have been theorizing that Serkis would play Klaw for months. Still, it's satisfying to hear we may be on the right track, even if the role is unconfirmed at the moment. Marvel is keeping its lips sealed, and Serkis' reps have responded with a "no comment."
According to Schmoes Know, Serkis' Klaw will be actually be a combination of two comic book characters: Ulysses Klaw, and his father Fritz Klaue. That doesn't mean Fritz won't exist in the MCU, but Serkis' Ulysses will have most of Fritz's attributes from the books, including a connection to Baron von Strucker (Thomas Kretschmann) and The Howling Commandos.
If Serkis is indeed playing Klaw, he'll likely have a huge part to play in the Black Panther franchise. In the books, Klaw is a Dutch physicist who murders Wakandan leader T'Chaka in front of his teenage son T'Challa. T'Challa (the future Black Panther) fights back by turning Klaw's own weapon against him, permanently destroying Klaw's right hand.
Chadwick Boseman is already set to lead Black Panther, due out in 2017, though he'll make his first MCU appearance in 2016's Captain America: Civil War. Serkis' MCU debut, Avengers: Age of Ultron, is scheduled for May 1.