Amazon Offering 'Transparent' For Free This Weekend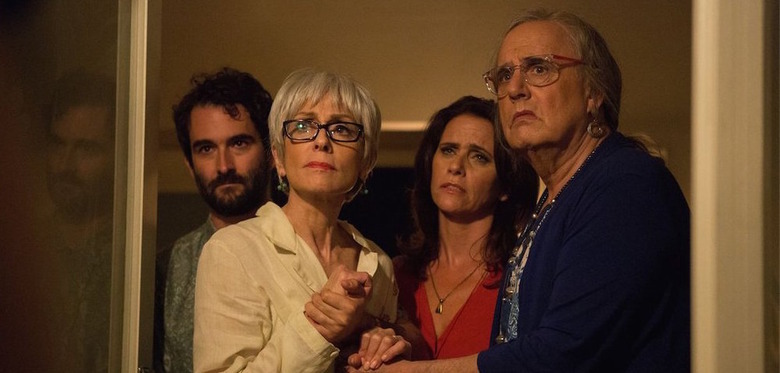 Amazon's Transparent got some much-deserved attention at this year's Golden Globes, when the HFPA declared it the year's best comedy and star Jeffrey Tambor comedy's best actor. But unless you have an Amazon Prime subscription, or a generous friend who does, you probably haven't had the opportunity to check it out.
Well, this weekend is the perfect time to change that. Amazon will let non-members stream the entire first season for free for just 24 hours. And if you like what you see, it's also offering a discount on its usual Prime membership. More on how to watch Transparent free after the jump. 
Amazon announced its plans through the Transparent Twitter account.
This Saturday, all Episodes of #Transparent will be available FREE for 24 hours only! Let the countdown begin! pic.twitter.com/0jPRYwAWc6

— Transparent (@transparent_tv) January 22, 2015
Created by Jill Soloway, Transparent stars Tambor as Maura Pfefferman, a trans woman who's only just come out to her family after living as Mort Pfefferman. Her reveal sends shockwaves through her family, which consists of her ex-wife Shelly (Judith Light) and their three self-absorbed kids (Amy Landecker, Jay Duplass, and Gaby Hoffmann).
According to Amazon, viewership of Transparent shot up by 250% in the wake of the Golden Globes win. Mind you, the show was already a hit. It was the company's first real original programming breakout, and Amazon boasted that it "smashed Prime Instant Video records." The dramedy was renewed for Season 2 just a couple of weeks after its debut.
The first season of Transparent consists of just 10 episodes of about 30 minutes each. It's totally doable in one sitting, provided you've got a comfy couch and some nearby snacks. And it's absolutely worth it. Transparent is a delicate piece of work that's hilariously funny and deeply sad, and not quite like anything else on television.
But if a five-hour marathon isn't for you — or if your Transparent binge makes you eager to see what else Amazon has to offer — you can keep watching later with an Amazon Prime subscription. As part of the Transparent promotion, Amazon is offering Prime memberships for just $72 — a not insignificant discount off the usual $99 fee.