Here's The Guy Nicolas Cage Is Playing In The Osama Bin Laden Satire 'Army Of One' [Video]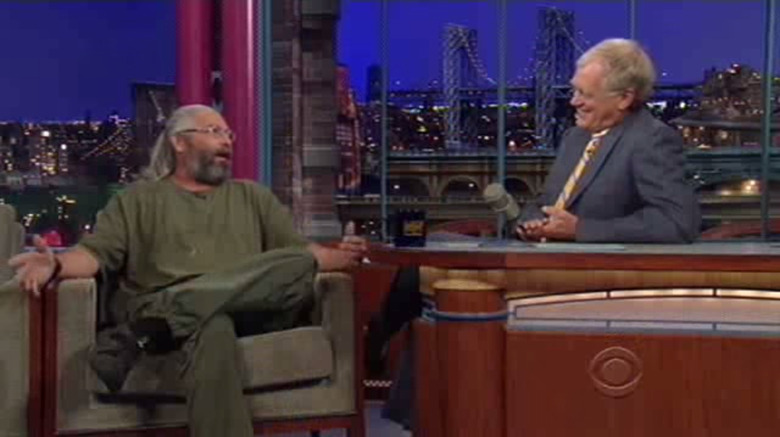 Earlier today, we reported that Nicolas Cage had signed on for Army of One, about an American construction worker who took it upon himself to hunt down Osama bin Laden. The Larry Charles-directed satire is based on an extensive 2010 profile of Larry Faulkner from GQ, but Faulkner came to the attention of the media months before that piece ever ran.
The "Rocky Mountain Rambo" first made headlines in June 2010 when he was arrested in Pakistan. Armed with a sword, a dagger, and a pistol, he claimed to be searching for bin Laden in the mountains along the Afghan border. In the weeks and months that followed, he made the rounds on the publicity circuit — including a stop at Late Show With David Letterman. Watch the Larry Faulkner David Letterman interview after the jump. 
Faulkner's trip to capture (not kill, he insists) bin Laden wasn't just done on a whim. When he was arrested in Pakistan, he was on his eleventh attempt to find the al-Qaeda leader. As he explained to GQ, he "absolutely" believes he was hand-picked by God for the mission. "I'm always wondering: Why did you pick me instead of somebody else?" he told the magazine.
It's hard to decide what to make of Faulkner, and Letterman doesn't seem so sure either. The talk show host seems both amused and horrified. At one point, in response to Faulkner's insist on referring to "Pakis," Letterman insists, "Once again, I'd like the record to show that I said Pakistani."
In any case, Faulkner's larger-than-life personality suggests Cage has a lot to work with here. And that rich head of hair could definitely inspire another epic Nic Cage hairpiece. That is, assuming Cage models himself after the real-life Faulkner — it's unclear at this point how closely Charles' "semi-scripted" comedy will follow the true tale.
For more on Faulkner, be sure to check out the fascinating GQ profile that'll serve as the source material for the movie. Army of One will shoot this spring for release late this year.