Former Disney Star To Lead Ronald Reagan Biopic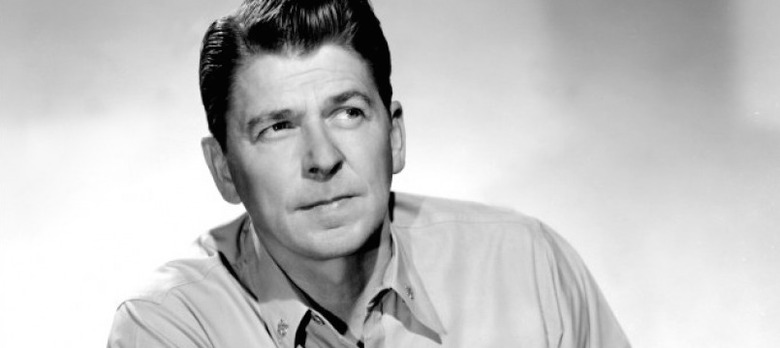 Ronald Reagan is going back to the big screen. David Henrie is set to play the former U.S. President in Reagan, an indie biopic told from the view of a KGB agent keeping tabs on him. Or perhaps that should be future U.S. President, because the film will focus on Reagan's pre-Oval Office days. More on the Ronald Reagan biopic after the jump. 
Henrie is a rising star best known for the Disney Channel sitcom Wizards of Waverly Place. (Though if you're not a teenager or the parent of one, you may better recognize him as Ted Mosby's son from How I Met Your Mother.) Speaking to THR, Henrie described Reagan as "a universal film with universal values and principles." No other cast members or director has been set at this time.
Reagan unfolds from the perspective of a KGB officer tasked with surveilling Reagan. This is in the days before Reagan was a politician, back when he was just a young actor, SAG president, and devoted anti-communist. Jon Voight was in talks to play the agent way back in 2012, but has since fallen off.
The $25 million indie was scripted by Howard Klausner. He previously penned Clint Eastwood's Space Cowboys and last year's Elvis doppelganger drama The Identical. Mark Joseph (Tolkien & Lewis) will produce, with Ralph Winter (X-Men) serving as executive producer.
Reagan will be based on two biographies by Paul Kengor, God and Ronald Reagan: A Spiritual Life and The Crusader: Ronald Reagan and the Fall of Communism. Kengor expressed his excitement over the new movie. "I've been very pleased to see the script develop in a manner that is faithful to my books and ultimately to history," he said.
The 40th U.S. president was previously played by James Brolin in the 2003 miniseries The Reagans, and by Alan Rickman in 2013's The Butler. Michael Douglas will portray him in the upcoming indie Reykjavik. Reagan will also be a character in the upcoming second season of FX's Fargo, although casting for the role has been revealed at this time.