'The X-Files': David Duchovny Would Be "More Than Happy" To Play Mulder Again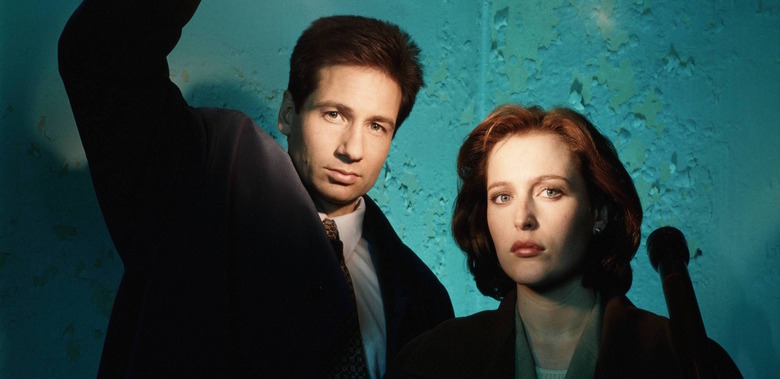 Fox hasn't quite confirmed the return of The X-Files, but it's made it clear that it wants to bring the show back. And actress Gillian Anderson has made it clear that she wants to come back. And now David Duchovny has made it clear that he wants to come back, too.
More on the possible David Duchovny X Files return after the jump. 
Speaking with USA Today, Duchovny revealed he'd be "more than happy and excited to bring it back and do it again with [co-star] Gillian and [series creator] Chris [Carter]." He added, "I'm assuming that it will happen sooner rather than later now."
However, there is a catch — he doesn't want to return to the 20something-episode seasons of yore. "We'll see what form, how many (episodes)," he said. "Certainly I can't nor would I be interested in doing a full season. It will be in some kind of limited form. We're all old, we don't have the energy for a full season."
There's been on-and-off chatter of a potential third X-Files movie for years, but these recent developments suggest we're more likely to get a TV series — probably something along the lines of that 24 limited-edition series that aired last year. Duchovny's comments follow ones made by Fox exec Gary Newman during a TCA panel this past weekend. "It's true that we've had some conversations on X-Files," he said. "We're hopeful of being able to bring that back at some point."
Anderson seems game as well. During an appearance on the Nerdist podcast earlier this month, Anderson admitted she'd be "fucking overjoyed" to reunite with Duchovny for more episodes of The X-Files, and sparked a fan campaign (using #XFiles2015) calling upon Fox to revive the series.
One potential snag in Fox's plans to bring everyone back is scheduling. Anderson has been starring in the BBC's The Fall and has been confirmed as a regular for Season 3 of NBC's Hannibal. Meanwhile, Duchovny has the crime drama Aquarius coming up at NBC. But if The X-Files revival is going to be a limited affair anyway, both stars could potentially find a way to work it in.
Duchovny portrayed FBI Special Agent Fox Mulder, a believer in the paranormal, for 9 seasons of The X-Files running from 1993 to 2002. He also played the character in two spin-off movies, 1998's The X-Files and 2008's The X-Files: I Want to Believe. Anderson played Mulder's more skeptical partner, FBI Special Agent Dana Scully.