Disney Abandoned George Lucas' Ideas For The 'Star Wars' Sequels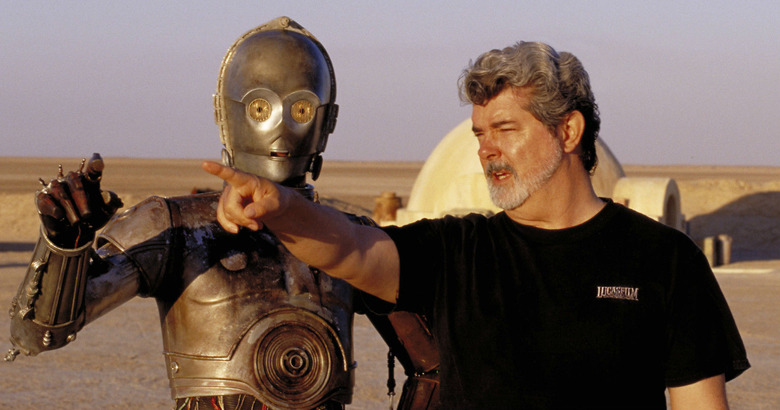 In the years to come, we'll certainly learn more about the behind the scenes development of the new Star Wars movies. But, for now, the public narrative is as follows. George Lucas was quietly developing Star Wars 7 when he decided to sell Lucasfilm to Disney. He passed along his outlines and work on the movies, which screenwriter Michael Arndt began adapting. J.J. Abrams came on board as director, but he and the writer didn't see eye-to-eye. Arndt left the project, Abrams took over writing duties with Lawrence Kasdan, and Star Wars: The Force Awakens went into production.
The rumored disagreement between Arndt and Abrams was over Lucas' vision. Apparently, Lucas and Arndt wanted Episode VII to focus more on the younger characters, while Abrams wanted the younger generation to be secondary to the old guard like Luke, Han and Leia. We still don't know precisely how that balance worked out. In a new interview, Lucas himself admitted Disney abandoned his Star Wars 7 ideas, adding fuel to this fire.
Cinemablend asked Lucas about his original ideas for Episode VII, and here's his response:
And here's the quote:
The ones that I sold to Disney, they came up to the decision that they didn't really want to do those. So they made up their own. So it's not the ones that I originally wrote [on screen in Star Wars: The Force Awakens].
That sounds very much like the narrative described above, the one we'd heard rumors of everywhere. That Lucas wanted to put his characters – Luke Skywalker, Han Solo, Leia Organa – in the background and give the fans something new. The Force Awakens certainly seems to do that, with new characters Finn, Rey, Poe, and others, but they'll be co-starring with the older characters in this first chapter, leaving the story open to the younger generation going ahead.
To be fair, if this is all true, I don't think J.J. Abrams or Kathleen Kennedy, the president of Lucasfilm, are the bad guys. Lucas might sound upset and while his idea to go young is admirable, there really was only one shot with the older actors. The fact Mark Hamill, Harrison Ford, Carrie Fisher, Peter Mayhew and the rest are alive and well now is something Abrams obviously felt he needed to take advantage of. Someone, probably Rian Johnson, can always make a new Star Wars movie with new characters. But there was only a small window to make one final adventure with our old heroes. Decades from now, we'll probably be quite happy for that. And we'll get to see more hints of Lucas' vision.
Anyway – it's a pretty startling revelation from Lucas. What do you think of the quote?